The Celebrity Collector

Veteran Character Actor Curtis Armstrong Collects Books
By Ken Hall
Veteran character actor Curtis Armstrong has been interested in books and reading all his life. He recalls the time at age 5 when he got into an argument with his mother and announced he was running away from home. He went to his room and packed a suitcase ­ with nothing but books! "I dragged this heavy thing down the street before my father came and got me," he said with a laugh.
His father, it turns out, was an avid reader and so was his father before him. "I was always given books and books have always been a part of me," Armstrong said. A child of the '50s and '60s (he was born in 1953), Armstrong devoured the books on horror and the supernatural given to him. One was a later edition of Frankenstein, brilliantly illustrated; another was a copy of Dracula.
Another book his father gave him struck a note. It was The Sketchbook of Geoffrey Crayon, by the American writer Washington Irving (1783-1859). "I liked it because it had these wonderful illustrations, some of which were later used for his signature work, 'The Legend of Sleepy Hollow,'" Armstrong said. His fascination with Irving eventually led to a collection of the author's works.
In the early '60s, Armstrong's parents began giving him hardbound copies of classical works by writers like Poe, Doyle, Twain, Verne, Kipling and Stevenson. They were published with kids in mind, by Platt & Monk, and they left an imprint on young Curtis. "They had these eye-catching dust jackets and were just intelligently put together," he said. "And they got me started on a collection."
Armstrong might have spent more time in front of a TV set, like the rest of his baby boomer brethren, were it not for the fact that his father ­ who worked for Chrysler Corporation ­ was transferred to Switzerland when Curtis was a boy. "There was practically no TV there, and kids were restricted as to what they could even see in movie theatres," he recalled. "So I did a lot of reading."
It was during this time that Armstrong developed a fondness for Arthur Conan Doyle and the many Sherlock Holmes books. Today, the Holmes component of his collection is the largest. It includes the sleuth's earlier appearances in the magazine Strand (he was serialized before being issued in book form); rare and first-edition copies; letters written by Doyle and even two of his pipes.
"I bought the pipes at a Sotheby's auction around 1988," Armstrong said. "I was a phone bidder, actually, and I really wanted those pipes. At the time, I was pretty much single and unattached and spending a good portion of my income on my collections."
Today, a basement room is dedicated almost entirely to Sherlock Holmes and the British author P.G. Wodehouse, another favorite of Armstrong's. The Holmes section is divided into displays: one for movies, plays and pastiches; one for early editions of "The Baker Street Journal" (the official publication of the Baker Street Irregulars, a club for Holmes aficionados); and one for books.
The books include English first-editions of classics like The Adventures of Sherlock Holmes, Memoirs of Sherlock Holmes, Hound of the Baskerville's, The Return of Sherlock Holmes and The Casebook of Sherlock Holmes. "I collect the authors," Armstrong said of his collections. "My interest is not so much condition, state or dust jacket. First and foremost, I have to like the author."
One of the seminal moments in Armstrong's life as a Sherlock Holmes collector came a couple of years ago when he was invited to a dinner hosted by the Baker Street Irregulars. "They are a very exclusive club, so when I was invited that night I was honored. Then, this year, they asked me to join. It was a complete surprise."
The Baker Street Irregulars began in the 1930s as a branch of the New York literary scene. It was only a few years after Doyle's death, so the memory of the author was still fresh in the minds of members, most of whom were professionals and intellectuals. The founder was Christopher Morley. He ran a kind of social club, but the Irregulars all had in common a deep love of Sherlock Holmes.
Armstrong began collecting the works of P.G. Wodehouse around the same time he started collecting Sherlock Holmes books ­ in the early '70s. Initially it was his dream to acquire first-edition copies of all 90 or so of Wodehouse's titles, in both the English and American versions (there are textual differences). "It was a cost-prohibitive dream," he sighed, "but I still have all of his books."
Armstrong also owns letters penned by the author. "Wodehouse was a tireless letter writer," he said. "It makes for a nice addition to the collection, but when you talk about serious P.G. Wodehouse collections, mine is nothing compared to that of a friend, Elliott Milstein. He even has articles of Wodehouse's clothing and other belongings. His place is like a Wodehouse museum."
Armstrong said his Washington Irving collection is, "the most important, in many respects." It began, of course, with his father giving him The Sketchbook of Geoffrey Crayon. Then, in the fall of 1983, Armstrong was living in New York City when the desire to re-read The Legend of Sleepy Hollow came over him, quite strongly. He went to a bookstore on Fifth Avenue and bought a copy.
"From the very first sentence of the book, I had the feeling I had discovered something very important to me," Armstrong said, adding, "I think I read that book from start to finish without stopping to eat." From that point forward, collecting Washington Irving became paramount. Armstrong has all of the author's first-edition works, English and American (textual differences there as well).
He also has manuscript pages; letters written by Irving; books about the author; an original newspaper front page with Irving's obituary, the day after he died in 1859; and a library slip issued to Irving when he was researching a book. Armstrong called Irving one of the world's most underappreciated writers. "Dickens' Christmas stories were strongly influenced by Irving's essays," he said.
Curtis Armstrong was born November 27, 1953, in Detroit. He studied at the Academy of Dramatic Art at Oakland University in Michigan and was a co-founder of the Attic Theater Company in Detroit. The first ten years of his professional career were spent on the New York stage, on tour and with regional theater productions. In 1983, he accepted a role in the hit film Risky Business.
In the movie, which became a teenage classic starring Tom Cruise, Armstrong played Miles, and two of his lines are often repeated: "I've got a trig midterm tomorrow and I'm being chased by Guido the killer pimp!" and (to Cruise), "Sometimes, Joel, you just gotta say, 'What the (expletive).'" His very next film role ­ as "Booger" in Revenge of the Nerds ­ propelled Armstrong to stardom.
More movie roles followed. In 1985, he played the character Charles De Mar in Better Off Dead and delivered the line, "This is pure snow! Do you have any idea what the street value of this mountain is?" The following year, he had a starring role in One Crazy Summer and, the year after that, he reprised his "Booger" role in Revenge of the Nerds II: Nerds in Paradise.
Next up was TV. From 1986-89, Armstrong played Herbert Quentin Viola on the hugely popular ABC series, Moonlighting. Since then, he has been on numerous TV shows. He had recurring roles on Felicity and Ed, and he's also been on Grey's Anatomy, That '70s Show, Las Vegas, Third Rock From the Sun,Murphy Brown, Ally McBeal, and Lois & Clark: The New Adventures of Superman.
In 2004, Armstrong played Atlantic Records owner Ahmet Ertegun in the hit movie Ray, the story of music legend Ray Charles. Jamie Foxx won the Oscar for Best Actor in the title role. This year, he appeared in another film, Akeelah and the Bee, a film about spelling bee competitions starring Lawrence Fishburn and Angela Bassett. Armstrong played Mr. Welsh, a school principal.
Current projects include film roles in movies that have not yet been released. They include Smokin' Aces (a funny but violent gangster-comedy, starring Jeremy Piven, Alicia Keys, Andy Garcia and Ben Affleck); Southland Tales (a sci-fi horror thriller, with Dwyane "The Rock" Johnson and Sarah Michelle Gellar); and Searching For Mickey Fish (a comedy starring Daniel Baldwin).
Armstrong lives in Los Angeles with his wife, Elaine Aronson, and their 10-year-old daughter, Lily. Lily, like her dad, is a voracious reader. She and a classmate started a reading club to feed their appetite for books. Fans of Curtis Armstrong may visit the star online at www.charlesdemar.tripod.com, a website begun by a fan of the actor.
Curtis Armstrong has loved books since he was a kid, when his father and grandfather gave him copies of Frankenstein and Dracula.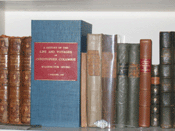 A History of the Life and Voyages of Christopher Columbus, by Washington Irving, sits on a shelf in Armstrong's home.
Armstrong purchased these two pipes that once belonged to Sir Arthur Conan Doyle at a Sotheby's auction in London, in 1988.
Jeeves Omnibus, by P.G. Wodehouse.