The Antiques & Antiquities of London
By Mike McLeod
Last November, my wife and I flew to London to celebrate our 25th wedding anniversary ­ ten months late. After failing to do something memorable for our 20th wedding anniversary, I was determined to succeed with the 25th ­even if it was almost a year late.
London is fabulous. From antiques to antiquities, you can find also everything there.
The Markets. London has an abundance of open-air markets on weekends and during the week. New, old, vintage, pop, ancient ­ it's all there. Portabello Road in the Notting Hill area (yes, the location of the Hugh Grant and Julia Roberts movie) is probably the best known for its great variety of antiques, general merchandise, food and fruit. The road is closed off on Saturdays, and many vendors set up along the street. Because it is so well known, it is packed with people by 10 am.
The second-hand market starts at the top of the street, and walking downhill, you pass stands selling fruit and vegetables, baked goods, various other goods and household items, from detergent and batteries to cashmere and jewelry. We stopped here to buy and enjoy a great spinach-stuffed pastry and a crème-filled scone with chocolate icing.
About halfway down Portabello Road, there are lots of antique shops and "arcades." No video games here, arcades are like mini antique malls with dozens of dealers' booths crowded in narrow aisles that wind around through the building and sometimes connect with other arcades. We ducked into the Geoffrey Van Arcade and admired spectacular Wedgwood jasperware from the 17th century, cross stitched samplers from the 15th to 18th centuries, Edwardian silver, Orientalia, prints, antique tools, snuff shoes (which are snuff boxes crafted in the shape of shoes) ­ just about everything. Allow for plenty of time when you go, there is so much to see here.
For collectors and souvenir hunters, the Apple and Jubilee Markets were the best. Located in Covent Garden, these two markets are situated beside each other. Both had some antiques, as well as new items, but Jubilee was more of a flea market. There, my wife Marla bought five 16-inch strings of freshwater pearls for $20, after a little negotiating. (They were a hit as presents.) We also picked up a commemorative coronation spoon from 1937 for $2, a china thimble for the same price, a miniature teacup, and an English tobacco tin of large pennies (pence) for about $6; this large pence is the right size for some trade stimulators.
The Apple Market had a little higher quality antiques and new items, including a nice selection of 18th and 19th century pots and pot lids (fish paste, yummy!). Around the corner was a pasties shop where we stopped for a snack. Not pasty glue, but a bread pastry filled with bacon, potatoes and cheese (as I had), lamb and mint (Marla's), or a number of other hearty ingredients.
Walking back to the Underground station, we passed some street performers with blue painted faces and clothes and making strange noises as they entertained the crowd. For my money, some of the best things in London, like the markets and the people, are free.

The Free Antiquities
The British Library. After our overnight flight to London, we arrived at our hotel early in the morning ­ before check in time. Because of the nine-hour flight, our tour planner (Marla) had left our first day open to recuperate from traveling. But with no bed until the afternoon, we headed out to visit the British Library. Originally, we didn't have it on our list of sites to see, but it turned out to be a highlight of the trip.
Admittance to the British Library is free, but a donation is requested. In the John Ritblat Gallery is an ongoing exhibit titled, "Treasures of the British Library." In it, you can see the following for free:
Two of the four known existing copies of the Magna Carta. One copy was very dark having survived a fire. An accompanying video explained that there is no evidence that the original document was actually written down when the barons forced King John in 1215 to enter into an agreement with them about their rights ­ not the common people's rights. The barons were tired of being thrown in jail by the king without a trial and being heavily fined and taxed to support his reign. After agreeing to their terms, King John went home to the castle and violated all his promises, so the barons called him on the carpet again in a year or so and had him affix his seal to the Magna Carta. (The video pointed out that there is no evidence that King John knew how to write, hence the seal.) Several copies were made of the document and distributed to bishops and sheriffs ­ just in case King John tried to renege again.
With no security guards around and nothing but a sheet of glass (probably, bullet-proof, though) between me and both copies, I was able to get within six inches of possibly the most important document in English history. Also on display were:
A Gutenberg Bible dated to 1454-1455 and one of the first 180 copies that was printed.

Jane Austen's handwritten book Persuasion displayed on her personal lap writing desk.
Beowulf, an 11th century copy recorded on vellum.
Charles Dickens' printed copy of David Copperfield, which was an unbound stack of pages with a blue paper cover.
Rudyard Kipling's handwritten copy of "The Tale of the Mongoose" from The Jungle Book.
Handel's Messiah, dated 1742.
Beethoven's Ninth Symphony.
For Beatles fans, the original handwritten lyrics for: Yesterday, I Wanna Hold Your Hand, Ticket to Ride, Fool on the Hill, and Help!

Three sketches by Leonardo da Vinci from 1504-1506 depicting a mechanical pipe organ, rollers and the movement of a river.

Queen Elizabeth's mid-1500s letter to Parliament wherein she refuses to name a successor, but did promise to consider marriage.

The logbook of the HMS Victory from October 21, 1805 detailing Lord Nelson's victory over the French fleet at Trafalgar and recording his death in the battle.

Captain James Cook's journal dated from February 21, 1775.

Stamps from the British Stamp Act that inflamed American colonists, which led to the rallying cry of "No taxation without representation" and helped inspire the Revolution.

Mr. William Shakespeare's Comedies, Histories and Tragedies, the first collected folio edition from 1623; Richard III; and Shakespeare's mortgage from 1613.

A handwritten letter from Sir Isaac Newton to Robert Hooke in 1679. Hooke accused Newton of plagiarism and said that centrifugal force was "an illusion." The letter detailed Newton's response.

A 24-page book on astronomy by Galileo Galilei printed in 1610 with his drawing of the Pleiades Constellation. Galileo was eventually forced by the Inquisition to recant his findings which supported Copernicus' heretical belief at the time that the earth circles the sun.
Whew. I was overwhelmed with the sheer magnitude of the collection. What I've described above is just some of the highlights and maybe one percent of the antiques and antiquities on display.
National Gallery. In its permanent collection, the National Gallery has paintings dating from about 1250 A.D. More than 50 rooms have paintings on display ­ enough space to hold more than 2,000 double-decker buses. Among the highlights that enthralled us were: Sun Flowers, by Van Gogh; Rembrandt's Self Portrait; Ruben's Samson and Delilah; Raphael's The Madonna of the Pinks ("pinks" refers to the carnations in the painting); Leonardo da Vinci's The Virgin of the Rocks; Botticelli's Venus and Mars; Van Eyck's The Arnolfini Portrait, or as some have loosely titled it, "The Shotgun Wedding"; and The Entombment by Michelangelo. We were also treated to masterpieces by Renoir, Dega, Cezanne, Van Dyck, Monet, Turner, Canaletto, Bellini, and many more, of course. All free.
National Portrait Gallery. Located on Trafalgar Square near the National Gallery, it was established in 1856 and has paintings of 350 famous people, including: Anne Boleyn; Jane Austen (ca. 1810); King Charles I (1631); Captain James Cook (1776); Oliver Cromwell (ca. 1649); Charles Darwin (1881); Elizabeth I; King George III (1761-1762); George Frideric Handel (1756); and many others.
The British Museum. Seeing this was on par or even better than the British Library. The British Museum houses one of the greatest collections of antiquities in the world, including Egyptian, Roman, Greek, Assyrian, Etruscan, Mayan, and other civilizations.
In the entrance to the Egyptian rooms, the very first showcase holds the Rosetta Stone, the key to translating hieroglyphics. In this first long hall were also: a giant stone head of Ramses, Pharaoh of Egypt, who had a throw down with Moses; sarcophagi, statues, tablets and figures. Amazingly, many of these items were out in the open, and you could touch them. They were on display with no barriers or cases around them. Of course, precious items like the Rosetta Stone were under glass. I couldn't resist touching a sarcophagus, a seated pharaoh statue carved from black stone, and a Roman mosaic in a stairwell. (There were so many antiquities in the British Library that stairwells and hallways were used for display.)
In the Roman area, the most dramatic exhibit is the Elgin Marbles. Displayed in a 50-yard-long room, the Marbles were taken from the Parthenon in 1806 by Thomas Bruce, the 7th Earl of Elgin and ambassador to the Ottoman Empire. (The Turks were at war with the Greeks at the time, and they were occupying Athens and using the Parthenon to store weapons and gunpowder.) Fearing for the safety of the Marbles, Lord Elgin secured permission from the Turks to take some of them and some sculptures to protect them, he said.
The Marbles depict an annual ceremony in which a procession of people and horsemen take a new robe to the goddess Athena. The Marbles adorned a set of columns inside the Parthenon while another set or carvings in high relief called metopes adorned the outside above the columns. Of the original 92, about 15 metopes are in the museum, and they tell the story of a battle between centaurs and a people known as the Plinths. After the king of the Plinths invites the centaurs to a wedding ceremony, they get drunk and start to carry off the Plinthian women. The men fight the centaurs, and in the end, the men ­ and the women ­ lose.
The great controversy surrounding the Marbles is that Greece wants them back, naturally. This has been a great battle, much like that of the Plinths and the centaurs. But no matter who wins this one, the Elgin Marbles are magnificent.
Other highlights of the museum include: the Portland Vase (a blown glass vase with a carved white overlay depicting Romans that was created at about the time of Christ); giant Assyrian winged bulls with human heads that were cut in half for transport to England; Assyrian frieze carvings depicting a royal lion hunt (an entire room was devoted to them because there were so many panels; they recorded the hunt in frame-by-frame fashion, like a comic strip); splendid black and burnt orange Greek vases; Etruscan vases; mosaics from Rome and Greece; dozens of tablets with hieroglyphics; and much more.
Cleopatra's Needle. Actually, Cleopatra had nothing to do with this obelisk because she wasn't born at the time it was carved. But that's what everyone calls it. Ramses the Great (about the time of Moses) carved part of it. It was found by British explorers who encased it in an iron tube and shipped it toward England. The ship sank, but the obelisk was later recovered and erected on the banks of the Thames. Probably a hundred feet high, this Egyptian treasure stands by a street. It is open to the weather and to passersby to enjoy free of charge.
Admission Only Antiquities
Tower of London. Her Majesty's Royal Palace and Fortress, the Tower of London is a complex of about 20 towers, one of which protects the Crown Jewels. Fortunately, we followed a travel book's advice and saw the Crown Jewels before we took the Beefeater's tour of Tower Green (where Henry VIII had two of his wives, Anne Boleyn and Katherine Harris, beheaded), the White Tower (which was built by William the Conqueror in 1078 for defense), the Bloody Tower (where executions took place), St. George's Chapel, and other buildings. After the tour, the line to see the crown jewels was out the door.
To see the Crown Jewels, you walk through several rooms, including one showing a video of the Queen's coronation, and a few more that house a Queen's ransom in place settings and other paraphernalia for royal occasions ­ virtually all gold. Some of those included:
10 golden maces, including the maces of George I (1689) and William and Mary (1689).

State trumpets, 1780-1848.

St. Edward's Staff, 1661.

Golden coronation spoon, 1661.

St. Edward's crown, 1661.

Sovereign's orb, 1661.

Queen Mary II's golden orb of state (1600) and her crown.

Altar dishes, 1664.

Golden flagons.

A golden wine cistern, or grand punchbowl, the size of a washtub, 1829.

Several salts: St. George's salt cellar, c. 1661, in the shape of a castle, about 12-18 inches high.

A christening ewer and basin, c. 1735.
The actual Crown Jewels are displayed in several cases in the center of the room with a moving sidewalk in front of them ­ to keep the line moving. Although I had seen them before in person and had a book of pictures of them, they were still a wonder to behold. Unfortunately, no photography was allowed.
Westminster Abbey. Founded in 960 as a Benedictine monastery, William the Conqueror was crowned here in 1066. About the size of a football stadium, Westminster Abbey is famous for the people buried there. Carved tombs are everywhere, in alcoves and sandwiched in along the hallways. Some of the notables included:
Queen Elizabeth I, daughter of King Henry VIII by Anne Boleyn, 1533-1603.

Her half-sister Mary I, who burned heretics at the stake, and died in 1603. Oddly, both are buried in same tomb.

Mary, Queen of Scots, who was beheaded by Queen Elizabeth.

And the tombs of King Henry III, Edward I, Edward II, Richard II, and Henry V.
Other famous people are entombed under the floor tiles. In the well known Poets' Corner, there is: Lord Byron, George Eliot (Mary Ann Evans), Alfred Lord Tennyson, George Frederick Handel, Jane Austen, Samuel Johnson, Laurence Olivier, Charlotte Bronte, Keats, Shelly, Burns, William Wordsworth, Lewis Carroll, Chaucer, Charles Dickens and Rudyard Kipling.
Certainly the oldest and most unique piece of furniture in Westminster Abbey is the Coronation Chair, which has been used for every coronation since 1296.
---
There is, of course, much more to see in London, but alas, I have run out of space to write about it. If you'd like to read more about the antiques and the antiquities of London and find some travel tips, visit our website, www.go-star.com/antiquing.
Buckingham Palace with
the crowd gathering for the Changing of the Guard.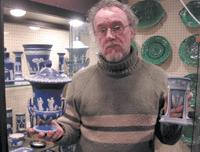 Mike Witts holding his favorite Wedgwood jasperware from the 1600s and 1700s. He also sells jelly moulds in his "arcade" booth.
Portrait of Anne Boleyn (ca. 1504-1536), second wife of Henry VIII. (Photo: © National Portrait Gallery, London.)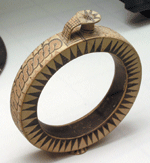 A ceramic Greek perfume
bottle of remarkable shape in
the British Museum.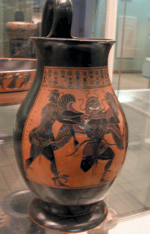 Greek vase depicting Perseus
fighting Medousa. His head is turned so he won't turn to stone.
Cleopatra's Needle rests
on the banks of the Thames for
all to freely admire.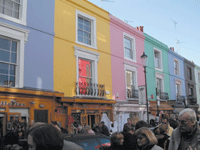 Colorful antique shops along London's famous Portabella
Road on a crowded Saturday.
Many Egyptian figures were
displayed unprotected and
touchable!
One of the Elgin Marbles showing three horsemen abreast.
Collectors at the Jubilee Market look for trinkets and treasures.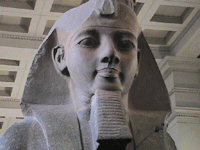 A huge partial statue of
Ramses II.
A snuff shoe that opens from
the top to dispense snuff.