Antiques Roadshow Finds in Atlanta

Posted September 2011
On Aug. 6, the Antiques Roadshow was in Atlanta, looking for interesting antiques and collectibles. Three of the notable finds from the event that you can look for next year in the three episodes that will be created from the Atlanta visit.
- Corner chair, circa 1760-1780, appraised by J. Michael Flanigan. The chair was purchased 50 years ago in Hudson Valley, N.Y. for $750-$800 in a collection of chairs and seven additional items. Made of mahogany and other American woods, it's called a corner chair, or "round-about" chair, and features cabriole legs and claw-and-ball feet. A potty chair under the cushion was added later. Flanigan valued the treasure between $250,000-$300,000.
- Civil War sword with scabbard, appraised by Rafael Eledge. It originally belonged to the owner's great-great-great grandfather and is a cavalry officer's sword. It has a sand-cast guard, leather handle with copper wire, and it was made in Macon, Ga. Eledge gave it an insurance value of $50,000.
- 1870 Tiffany necklace, appraised by Peter Shemonsky. Originally purchased at Tiffany's in New York by the owner's great-grandparents during their honeymoon, the design has a Japanese influence and is probably 18K gold. Shemonsky valued it at $40,000-$50,000.
A few other interesting items from the Roadshow:
- About 75 appraisers were present. The show has a pool of about 150 appraisers to choose from when they visit a city.
- About 90 antiques and collectibles are filmed during the day, but only about 60 items total (20 per episode) will avoid the cutting room floor and make it to the small screen.
- The show's producers will walk out with 60 hours of footage from the filmed items and four to five hours of footage from the feedback booth that they will edit down to three episodes.

Debbe brought to the Roadshow for an appraisal this George Crooms & Co. étagère that belonged to her great-grandmother.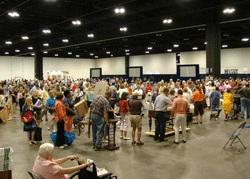 The lines were long and loaded with antiques and collectibles waiting to be appraised.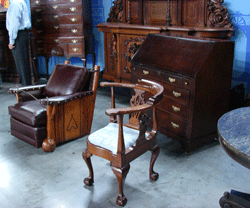 Some pieces of furniture to watch for on the Roadshow next year.