Capture A Colorful Room and Feel Using Antique Vessels
By Wendy Keenan
Posted December 2010
Using antique vessels and adding soft colorful flora will add richness to your rooms. If you have a collection of blue and white china, White Lenox or carnival glass for example, decorating with it can be difficult because the colors and styles resemble one another. If you wish to make a more interesting and softer look with your collection, warm it up with silk flowers.
The most important step is to buy high-end floral stems, making sure they look real. If you do not want to walk up and take a sniff; they are not good enough for your collection. It is worth the investment because less than perfect will make your collectibles look far less impressive.
To do this, keep in mind the decorating rules of color and balance and be careful not to damage your collectible vessel. Be sure to cover the end of the stems with floral tape or styrafoam to protect your vase.
Use some colors that are in the vessel itself and add some lovely, natural-looking filler, such as green leaves, spider grass or dried stems. Keep in mind that decorating in uneven numbers also applies to flower arrangements. Place the taller flowers in the center, smaller on the sides, and the leaves and filler flowing out the sides of the vessel. Trial and error is a good way to achieve the look you want.
Flowers placed throughout your home in an antique vase or other vessel present a soft, warm and elegant feel to your home. Be creative, think outside the box, and give it a try.
----------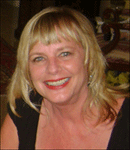 Wendy Keenan is the owner and interior designer of Circa Style Interiors. Contact her with questions about creating flower arrangements with antique vessels at 770-317-7479.