Old Hollywood Movie Theme Decorating
By Wendy Keenan
Posted October 2010
Use old cameras and movie reels for a classic movie studio feel. Purchase some old movie reels, hang them on the walls or place them on shelves or atop a bar. Search online for Oscar trophy copies and line them up on a shelf or mantle. Buy some Walk of Fame stars online and stick them on the floor; open up your creative side and think outside the box. If you have a bar, get some glasses that have stars and glitter on them.
Look for old-fashioned blackboard clappers and hang then around the room. Place street signs on the wall, such as Hollywood Boulevard or old studio signs. Find some old movie tickets and add them to some old movie star postcards or advertisements and frame them together. Many of these items are available at online stores and on eBay.
Add some figures of old movies greats, such as Elvis or Laurel and Hardy, etc. Shop for some vintage clothing of the days of Hollywood glamour and frame them or hang them around the room. Add some white cotton gloves and place them on shelves; make a memorabilia box and add small little movie collectibles to each shelf.
Find an old vintage lamp or two and place them around the room. Purchase some high canvas-and-wood barstools that look like the old director's chairs to add some cool movie-themed seating. Order some banners that have old and famous movie quotes of your favorite old stars, or carefully stencil quotes onto the wall.
If you have windows or a theater room, use velvet curtains of rich reds or purples and find red carpet for the room or for a narrow area. Make it have that red carpet feel by placing a long red runner on the floor.
If you are lucky enough to find old vintage Hollywood posters, remember to have them mounted on acid-free paper before framing. Keep the framing simple for this look; simple black or silver poster frames are the way to go. Add your own special touch by choosing posters of your favorite Hollywood stars of today or from the past.
Always use your imagination, think outside the box, and call me if you need some help.
----------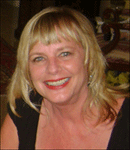 Wendy Keenan is the owner of Circa Style Antiques and Interiors in Alpharetta. She may be contacted at 770-317-7479.