Decorating with Antiques: A Proper Place Setting
By Wendy Keenan
Posted February 2011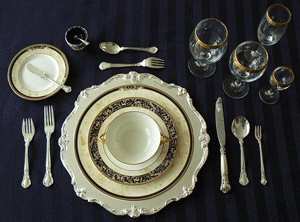 Planning a dinner and need a reminder of how to set a proper table? Where the cutlery should be placed around the tableware? Where to place the plates? Our lives are pretty hectic, and since takeout dinners have become the norm for some of us, it's easy to forget how to properly set a table.
Here is a refresher to help you set a table for that perfect dinner, mixed in with some creative ways to use your collection of dinnerware.
Top row, left to right: bread plate with butter knife (top left of dinner plate); coffee cup (top right of dinner plate); water glass; wine glass; and liqueur glass. Bottom row, left to right: salad fork; dinner fork; dessert fork; dinner plate with salad or soup bowl on it; knife; small spoon; and soup spoon.
Napkin placement depends on your preference, and there are many folding variations. As a default, it can be placed in the water glass, folded on the dinner plate, or placed beside the flatware on the left.
Setting a beautiful table is not difficult, nor do you need expensive tableware or silverware. Arrangement and creativity is the key to a pretty place setting. Do not be afraid to mix and match your silverware, stemware or dishes if they are similar in shape, color and size. Use your imagination, be creative and make them into place settings. Now is the time to take those china plates passed down from grandma from out of the hutch, pull out the linens from Aunt Betty, add your collection of silver utensils and put them to use.
I often set my table using beautiful antique stemware. I have 14 pieces: seven are green, and the other seven are blue. Some are champagne flutes and some wine glasses. I enjoy the look of every other place setting having a different color, one green and then one blue. This brings attention to the table and gives me a chance to treat my guests to a most pleasant ambiance.
It is lovely when a votive candle is placed inside the stemware and creates a warm, soft glow. This is a perfect alternative if you want to show these pieces but are worried about breakage.
Unmatched napkin rings can also be positioned on the table but use related designs because they should blend with the linens you have chosen. There is no problem with using differing designs in silver or gold; in point of fact, any colors that blend harmoniously will do. If you have an antique collection of napkin rings, now is the time to show them!
Open up the china hutch; put those lovely antique place settings to use. Your friends and family will be flattered that you thought enough of them to share your treasured family heirlooms for their special dinner, and you will be proud of yourself, too. Remember to use some imagination, think outside the box, and call us if you need some help.
----------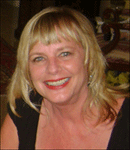 Wendy Keenan is the owner and interior designer of Circa Style Interiors. Contact her with questions about creating flower arrangements with antique vessels at 770-317-7479.