The Antiques Roadshow ­ You Ought To Go
By Mike McLeod
In Neil Teplica's book, 100 Things To Do Before You Die, he somehow overlooked going to the Antiques Roadshow. Sure, seeing the Running of the Bulls in Pamplona, Spain, and the Pushkar Camel Fair in India ­ as Neil suggests in his book ­ may be the epitome of excitement, but when you come right down to it, those are just spectator sports. The Antiques Roadshow requires not only your knowledge and skill in choosing the right items to bring for appraisal, but you also put lifelong hopes, dreams and beliefs about your special treasure on the line.
My wife, Marla, and I lucked out last July when the Roadshow came to Mobile. Admittedly, I cheated and took the easy route by requesting a press pass. I had to; I decided to go after the deadline for the ticket lottery ended on May 6th.
Each year in each of six cities, the Roadshow gives out 3,500 pairs of tickets in a lottery system, and on average, between 5,000 and 6,000 people attend in each city. But here's a little trick I learned to increase your odds of getting a ticket. In addition to playing the lottery, you can also mail in photos of large pieces of antique furniture, and if yours is selected, you get a pair of tickets. So you actually have two chances to win. The only catch is this ­ they only pay to have your furniture delivered if you live within 50 miles of the Roadshow city. Outside that boundary, you have to haul it yourself. I did see furniture being unloaded from a U-Haul truck in front of the Mobile Convention Center while I was there, so some people are willing to go this route to get tickets. Of course, you can bring any type of furniture, large or small, if you win tickets in the regular lottery and haul it yourself.
I also learned they film about 80 items in each city, and of those, only about 50 make it on air ­ but not all of them on the same show. Each city's filming yields three shows, so this year, you will see three shows from Mobile, Tucson, Salt Lake City, Milwaukee, Philadelphia and Honolulu.
So what was it like?
Pretty exciting. In Mobile, the Roadshow was held on the lowest level of the Convention Center. The first room we entered there was huge, and it was full of people. There was one long line that snaked around the room with people clutching their two items. Unlike most lines you have to wait in, this one looked fun because as people inched forward, they eyeballed whatever everyone else brought. And I am sure the same question was in everyone's mind: Will they put that on the Roadshow?
It usually takes about two hours to get through this line before reaching the entry area that the staff calls "Triage." To try and keep the wait time down, arrival times are staggered on the tickets by 90 minutes, starting at 8 a.m. and ending at 3:30 p.m.
At Triage, a staff person determines the types of antiques or collectibles you have and gives you a category card for each. A volunteer then escorts you into the Roadshow area, which is set up with backdrops forming a big enclosed circle. There are 21 different categories of antiques and collectibles, and the category cards match a huge poster mounted on the backdrop so you will know where to go.
Here again, you wait in a line for your turn with the appraiser, but again, it's fun because you can catch snatches of comments by the appraisers, see some Roadshow personalities at work, and watch the filming taking place.
It was here that I met Mark Walberg. The new host of the Antiques Roadshow is not Mark Wahlberg, the actor in Boogie Nights, The Italian Job and Planet of the Apes. No, this is the Mark Walberg who has hosted game shows and reality shows like Temptation Island, The Mansion and Joe Millionaire ­ the Aftermath. I happened to run into Mark while he was taking a break from filming one of his on-location spots ("More of Antiques Roadshow from Mobile in just a moment," etc.). Frankly, he was very friendly, warm and outgoing. The producers don't usually let the press talk to him at this time, but because I happened to walk right up to him, shake his hand and say, "The famous Mark Walberg, nice to meet you," he grinned and spoke with me like an old friend.
Mark is about 5'10", tanned, and by his own admission, not a collector. "I have fought the disease up to now," he explained. But he revealed that hosting the Antiques Roadshow has humbled him by realizing how little he knows about antiques and collectibles.
His kids and wife, he said, are the collectors in the family. "My son collects aeronautical items, and my daughter has Madame Alexander dolls. And my wife loves the Antiques Roadshow."
I only had a moment or two with Mark before he had to go back to filming. After that, he was off to do one of their off-location segments at a local museum.
One of the highlights of the day was meeting the Keno Brothers and spending some time with Leigh. The Kenos are just as nice in person as they seem on TV, and everyone at the show loves them ­ and they show it, too.
"I get hugged by about 300 to 500 people at each Roadshow," Leigh said with a smile. "On my way to the restroom a little while ago, I was hugged by eight people."
Leigh loves doing the Roadshow, and he will be at all six locations this year. "The people are great; they're so enthusiastic and excited. It's invigorating! Where else can you go and have people bring you treasures all day long?"
I asked if he'd seen anything interesting that morning. "A Windsor chair came in that made us all take a deep breath. It was from Pennsylvania, about 1780. Les appraised it at $20,000 to $30,000, kind of conservative I think. But then, we try to be conservative in our appraisals so the owners aren't disappointed later on."
Leslie Keno was busy with appraisals, so I did not speak with him By the way, the Kenos have an older brother Mitchell who was there appraising folk art. FYI, he doesn't look anything like the twins. When the new season begins airing in January, look closely at the appraisers' name because you won't recognize Mitchell Keno by face.
I also met and shook hands with Wes Cowan, who writes for us in Southeastern Antiquing Magazine. This was the first time I'd met him in person. When I spoke with him, he had just been filmed with a collection of drawings from the Alaskan Gold Rush. He placed the value of the set at $3,000 to $5,000. I only had a moment with Wes before he was off to do more appraisals.
And that's one aspect of the Roadshow that boggles the mind ­ the 75 to 80 appraisers ­ who are not paid and in fact, who pay all their own expenses ­ deliver about 10,000 appraisals in about twelve hours. In addition, there can be about 700 people in line at any one time to get in, and a total of about 1,000 people are on the set. Yet, the set stays relatively quiet for filming. It is exciting there, but it is a quiet excitement.
Your 15 Seconds of Fame
So let's say you finally made it to the front of the line. The appraiser asks about your treasure, and you explain about the heirloom inherited from Aunt Bessie. When you are finished, he asks you to wait a moment, and he leaves the table. This is a good sign.
When an appraiser finds an interesting item, he goes to a producer and tells her about it and why it should be filmed. If the producer agrees, you will be escorted to the Green Room.
Just like on The Tonight Show with Jay Leno, there is a waiting room for the guests called the Green Room. Here, there is makeup so you will look good on camera, but the real purpose of the Green Room is to keep you isolated from everyone. The producers do not want you to learn anything about your item, good or bad, before you go on camera. They want your honest reaction for the cameras. You'll wait about an hour in the Green Room, and then it's show time!
When you are taken back onto the set, several cameras will be trained on you, your item and the appraiser. And then you get your fifteen minutes of fame and find out what your treasure is worth. Of course, there is a chance that Aunt Bessie's heirloom is a reproduction or a fake. The Roadshow isn't out to embarrass anyone, but they choose to film fakes or reproductions because of the learning experience. Most people take the disappointment in stride, and hey, fifteen minutes of notoriety on the Roadshow makes for a great story to tell friends and other people bumped into at auctions and shows. ("You know, I was on the Antiques Roadshow.but it was a reproduction.")
As I mentioned before, the entire set area is enclosed in a big circle. To facilitate the filming, the cameras are set up in the center with a boom camera (mounted on a long arm for extreme close-ups) and rolling floor cameras. After filming one item, the floor cameras all roll around to another side of the set, going from one point of the compass to the next. Except for a few quick breaks, the filming is nonstop all day long.
With only about 80 items being filmed out of about 10,000 brought in, most people don't get on TV. But if you have your heart set on being on the Roadshow, you get a second chance in the feedback booth. On your way out, the feedback booth is where they film those quick clips for the end of the show ­ where most people talk about their experience and usually reveal they actually brought a piece of junk. Everyone can go to the feedback booth and get a second shot at a few seconds of fame.
So what are the producers looking for in the feedback booth to put on the show? Personality, enthusiasm, and perhaps a funny Roadshow experience.
The People and Their Treasures
The people attending the Roadshow were just as interesting as the antiques and collectibles they brought. The night before the Roadshow, my wife and I stayed in a local bed and breakfast in Mobile, the Mauvila Mansion. There, we met a mother and daughter who just happened to have tickets to it, too, so naturally we struck up a conversation with them.
Carolyn Cox and her daughter Wendy were very excited when they received tickets to the Roadshow. Carolyn brought bone jewelry that she had bought at an estate sale.
"I'm a digger," she explained. Under a table at the sale, she found a jewelry box with the bone jewelry in it, which she purchased for $50. She also brought a John Widdecomb mirror that was built into a painted wooden box with doors that folded over the mirror. Wendy brought a condiment holder by Ardalt and an anniversary clock that is wound only once a year.
Carolyn reported to me later about their experience, saying that they wouldn't have to " avoid the paparazzi as a result of our becoming famous at the Roadshow. However, it was a most enjoyable experience. Seeing some of the most unusual things people brought, watching the people and watching the appraisers in action was all very fascinating. I was surprised that some of the things we saw while in line that I thought for sure would be picked to be on TV were not."
Turns out, Carolyn's jewelry was all bone (she feared some might be fake), and four pieces were ivory. The ivory was valued at about $200, and the rest of the jewelry appraised at $50. Not bad.
"As for the mirror, no one could give me much information about it for sure. I was first sent to the decorative arts table with it, but the lady didn't have a clue, so she sent me to furniture. The guy there could only tell me that it was 20th century, which I already knew. I did flag down one of the Kenos. He said it was just 'so new' that his best guess as to the era was the 1930s, '40s or '50s."
Wendy did not fair much better. Her "condiment holders" turned out to be perfume bottles worth $50-$60. Her anniversary clock came in at a little less than she paid for it.
Some other people at the Roadshow:
Cheryl brought in an 1851 Navy Colt revolver that was appraised for $2,500-$3,000. You'll see her on the show. (For the safety of people with very valuable items, the press is not allowed to report the last names of people filmed on the show.)
One woman in line excitedly told me that all four of the items she and her husband brought were chosen to be filmed. I lost contact with her, but I'll be watching to see if she and her husband are on all three shows from Mobile.
In the lobby area, I spoke with a man who brought in an unusual casket from the 1840s. I saw it being appraised and heard it was a "casket made for home use". It had a wooden grate running the length of the bottom and a metal sheath inside for covering the body from the chest down. The appraiser said relatives would put ice on the sheath to cool down the body and slow its decay. (I assume this gave friends and relatives extra time to get to viewings and funerals since they were traveling by buggy and horseback.)

As the ice melted, the water collected under the grate and drained out two metal tubes which ran out the head end of the casket. The casket had a short door on the top that opened to just see the head. There was also a short door over the feet, but I don't know why.

When I spoke with the owner, he was surprised he wasn't chosen to be filmed, with such a unique item. He was once a funeral director, and he acquired the piece at a funeral home auction. It was appraised at $1,200 to $2,400.

As my wife and I left, we just happened to ride down on the elevator with the same two women who rode up with us on the way in. I asked how they fared. One had a letter opener from the first Mardi Gras Rex Ball in 1910 that she originally thought was worth $100. It appraised at $500.
While at the show, I saw the appraisers taking note of a large model of a passenger ship. I saw the owner again in the parking deck and asked about his experience. He said the model was appraised at about $2,500. I don't think he made it on TV.
Helpful Hints
If you go, plan to stand in line for a few hours. Bring a small folding chair to sit on if you can't be on your feet for three hours straight.
Wear comfortable shoes and clothes you don't mind the world seeing you in.
Apply online for tickets at www.pbs.org/roadshow. The address to apply by postcard will be posted there in January. Tickets are mailed two to three weeks before the event date. If you sign up online, they'll email you if you win.
No tickets are available at the event.
Submit photos of large pieces of furniture after the ticket lottery begins to: Antiques Roadshow, 125 Western Avenue, Boston, MA 02134; or visit
www.pbs.org/wgbh/pages/roadshow/series/highlights/2007/furniture/index.html to find out about emailing photos of furniture. Include a return address and a daytime telephone number, and mailed photos will not be returned.
Only firearms made before 1894 are permitted. Do not bring ammunition. Firearms are checked by security at the entrance. All local, state, and federal laws apply.
One Last Thing
For the entire time there, we were escorted by Jen Holmes, a publicist for WGBH, the PBS station in Boston that produces the Antiques Roadshow. The one question I was determined to ask while there was, has anyone dropped and broken an antique?
Jen replied that she'd heard something drop the previous week in Salt Lake City, "and a dead silence fell over the entire room." In Tucson, she heard five or six things drop and break.
I heard one thing hit the floor while I was there, but it sounded like metallic wire, so there was only a brief moment of silence.
************************
And that's the way it goes at the Roadshow. Lots of people come with high hopes, and a few go away having them realized. But just about everyone has a good time and treasures the experience.
If you get a chance, you really ought to go.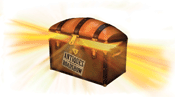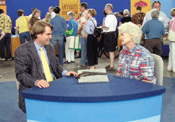 Christopher Mitchell valued Cheryl's 1851 Colt revolver at $2,500-$3,000.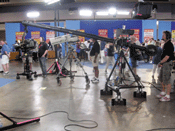 Boom camera films all day on all four sides of the set.
Marla McLeod (r.) at Triage gets her category cards.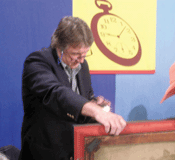 Mitchell Keno.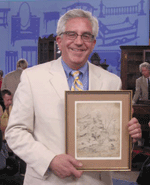 Wes Cowan with a Gold Rush drawing he appraised on camera.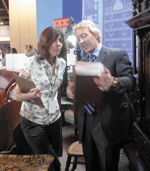 A Keno makes a pitch to a
producer.
Carolyn Cox's bone jewelry, $250.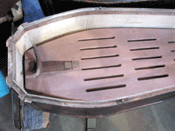 This 1840s "home use" casket
didn't make it on the show, $1,200-$2,400.
Marilyn Culpepper of the Historic Mobile Preservation Society came in character in this purple gown and posed with WGBH Publicist Jen Holmes.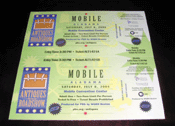 The prized Antiques Roadshow ticket, about 3,500 pairs issued for each show.
Category cards get you and your treasures to the right appraiser.
The new host of the show,
Mark Wahlberg.
2006 was the Roadshow's
10th year on PBS.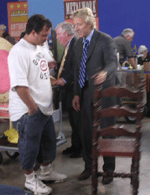 Appraisers, including the Kenos, give about 1,000 appraisals
per show.
Carolyn Cox's Widdecomb mirror stumped the experts.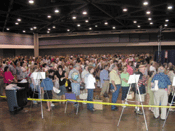 The wait in line could be two hours, but you get to see what others brought.