Q & A with the Antique Detective
Q. This barber chair is one of several items from my late father's barbershop. The chairs are marked, "Theo A. Kochs, Chicago." The date on the back of the headrests is October 23, 1910. I would like to have an idea of value. ­ M.A., Rural Valley, PA
A. Lucky you. In the new Kovel's price guide your barber chair could sell for $4,675.
Q. I was given these two porcelain figurines from my late grandmother who said they might be old and from Germany. The man is 5.5 inches, and the woman 5 inches. Both are in period costumes. The only mark impressed on the bottom is "2415". Can you identify origin, age and value? ­ A.V., Kansas City, KA
A. Your figurines are typical of the many made in Germany from the early to the late 19th century by a variety of porcelain companies. From your photo, yours could date around the mid-19th century. They could sell at auction for
$400 the pair.
Q. What can you tell me about this old ice box? The label on the inside reads, "EDDY Refrigerator. Established 1847. Manufactured by D. Eddy & Sons Boston, Mass, USA." It has one door and loads on the top. ­ R.M.L., Holbrook, MA
A. Your ice box was made around 1923. The exterior appears to be pine.
Ice boxes similar to yours have sold on eBay for $1,000 and up.
Q. We have this double stamped, 5-gallon Red Wing crock with some damage on the bottom corner. Would repairing influence value? What is value if in good condition? ­ J.D, Glidden, IA
A. With double wings and Union oval marks, in perfect condition, your crock could sell for over $200. At a country auction, for possibly more. It could cost more to repair than the value. Get estimates.
Q. Any idea of the value and age of this iron bed? ­ R.C., New Kensing-ton, PA
A. It was made in the mid-19th century. With the fleur-de-lis iron motifs, it could be French. A shop could price it at $400.
Q. My husband bought this wall clock in Germany in 1965. I would like to know the value. ­ A.N., Weymouth, MA
A. Your German balcony wall clock (so named for the balcony on the bottom) was made near the end of the 19th century. It could sell in a shop for around $2,900.
Q. This cherry desk is probably 100 years old. It folds down and has four drawers. On the bottom of one drawer, it says "Sheets Mfg. Co., Wapoponeta, Ohio." I would like to know the value of this antique. ­ M.S., Natrona, PA
A. Your "spinet" style desk is a reproduction of an earlier 19th century version. Your desk was probably made in the 1920s or '30s. It could sell for $300 or more in a shop.
Q. What was this metal hand tool used for and the value? ­ J.CF., Cheswick, PA
A. Your 19th century iron candle snuffer could sell for $75 to over $100.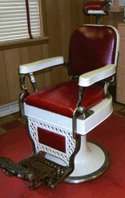 Kochs barber chair, 1910, $4,675.
5-gal. Red Wing crock, $200.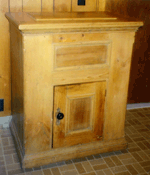 Ca. 1923 ice box, $1,000.
19th c. German
balcony clock, $2,900.
Spinet-style desk,
reproduction, $200.
19th c. candle snuffler, $75-$100.
Iron bed