Recognizing The Many Styles & Names of Clocks
By Anne Gilbert
As any clock collector will tell you, clocks do more than just keep time. They can entertain you as well. Their names can be just as entertaining with mystery clocks, blinking-eye clocks and wag-on-the-wall, to mention just a few. As for entertainment, how about a clock with the figure of Napoleon on top that walks back and forth and in and out of his tent? Or, consider the blinking-eye clock. The eyes connected to the escarpment or a human or animal figure move with each unlocking of the lever. The mystery clock lives up to its name. The works are completely hidden, and it appears to work "mysteriously", often with human figures that move without apparent impulse. Wall clocks resembling the shape of a banjo, and so named, were first made by Simon Willard, circa 1802.
During the reign of Louis XVI, the elegance of clock making reached its peak. The most precious materials were used to frame the clock face. This included tortoiseshell with brass inlay and horn mounts or lacquer combined with bronze. It became fashionable for clocks to be used within pieces of furniture. The great ebenistes of the era made desks, cabinets and over mantels with inset clocks.
Always one of the most beautiful and expensive mantel clocks is the Louis XVI lyre clock with "garniture". The lyre form was topped with a gilt bronze or ormolu "sun king." Paste brilliants encircled the dial. The garniture consisted usually of matching urns.
By the late 19th century, there were many makers of clocks including Tiffany and Co. Their turn-of-the-century mantel clocks were designed to match the interior fashions of the times. For example, when the Japanese influence on design was in vogue, Tiffany and Co. sold a three-piece gilt-bronze and cloisonné enamel clock and garniture. The pieces were decorated with Japanese symbols of bats, cranes and crabs.
Also very popular at the time were gilt-bronze mantel clocks with figures of poets and Caesar reclining on a marble base. They tied in with the then trendy bronze sculptures.
Clocks made during the Art Nouveau, Arts and Crafts and Deco eras, and the more recent 1950s, also reflected designs, motifs and materials of their decades. Many cases were designed by a famous artist or an important porcelain maker. For example, Limoges made a few porcelain pieces in the Art Nouveau style. Even Rene Lalique created a frosted glass clock with intaglio-molded female figures in the Art Deco style.
Art Deco examples combined unusual materials as copper, rock quartz, chromed metal and Bakelite on mantel clocks.
CLUES: Reproductions of the Louis XV and XVI have never stopped being made. They can sell at auction for $10,000 or more. Banjo clocks have been reproduced since their introduction.
It is never too late to begin a clock collection. Interesting and affordable examples can turn up anywhere. Or, subscribe to various auction catalogs to get a feel for what's happening.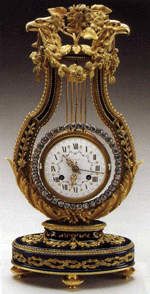 Lyre form French mantel clock. (All photos, Julia Auctions, Fairfield , ME.)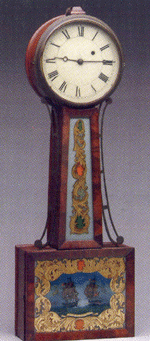 Willard-type banjo clock.