Identifying Antique and Vintage Fashions: Use Your Eyes
Collecting antiques is a compelling way to make history come alive. Material objects have the power to easily transport our imaginations back to earlier times. Collecting antique and vintage clothing, hats and accessories is a special passion. More than any other antique or collectible, fashions create feelings of nostalgia and romanticism. Antique and vintage fashions epitomize many faces of beauty, style and grace. Traveling through different decades, collectors will fall in love again and again with each unique offering. Clothing has always affected many aspects of our cultural lives. Knowing how to date antique and vintage clothing is also very helpful in dating heirloom photographs down to a year. This is vitally important not only for the photograph collector, but it also provides vital knowledge for genealogists to help define our family histories.
The greatest challenge to maintaining a fashion collection is to accurately identify and date your items. I like to reduce identifying fashion articles down to a simple premise: fashion has always been dictated by fads. These unique features in dress went in and out very quickly. Identifying your collection's fads will easily date your clothing, hats and accessories down to a year. Savvy collectors can become historical fashion experts in no time if they study key details including fabrics, collars, cuffs, colors, silhouettes and embellishments. Cavalier-style sleeve cuffs (Photo 1) show military-style fashions that were popular from the late 1870s to the early 1880s. It's all about the details.
Scoping out new treasures while shopping requires careful study before you go. Sleeve silhouettes provide age clues. Certain examples were unmistakably worn during specific years. The leg o'mutton sleeve changes yearly through the 1890s, varying in the size and shape of the upper puffed and lower, tight sleeve (Photos 2, 3 and 4). The 1930s offered a bevy of puffs, cape sleeves, push-up varieties and ruffles which went in and out of fashion and thus help date the garment. As for necklines, the distinctive shapes of the 1830s and 1840s are romantic and sloping. Sweetheart necklines of the late 1930s and early 1940s remind us romance was not dead even though the world was ravaged by war and deprivation. The 1950's shelf bust necklines are uniquely distinctive.
Silhouettes are another important method for dating fashions as they underwent many distinctive changes through the 20th Century. Early 19th Century clothing starts with a slim line and widens by the middle of the century. Victorian dress trains went in and out of fashion depending on social codes and if the garment was for day, evening or special occasion wear. The Victorian bustle exhibits design changes for easy identification, once you know the differences. The bustle transformed from an elaborately shirred and protruding feature to a simpler, minorsized puff. The 19th Century hourglass figure is obviously recognizable. Let us not forget the slinky and sinuous bias-cut silhouette of the 1930s or the peplums of the 1940s (Photo 5). The unmistakable mini skirt of the 1960s and 1970's bell bottoms are all too familiar because many of us wore them.
Embellishments, fabrics and colors are wonderfully easy ways to date items. Traveling through the 19th Century, collectors will discover painted and embroidered purses, aprons and parasols mirror similar embellishments on rare Victorian painted or embroidered clothing. Fringe was popular during the 1850s and 1860s (Photo 6). Differences in sequins between the 19th and 20th Centuries define the age of clothing and hats. Soutache cording was a distinctive embellishment during the 1910s (Photo 7) and 1940s. Rhinestones on 1950s dresses coincide with rhinestones applied to hats from the same year.
The avid fashion collector must become a textile expert of sorts. Knowing your fabrics—silks, velvets, organza, organdy, rayon and faille—is very helpful to tighten down the age of a piece. Collectors must train their eyes and know the look and feel of various Victorian silk brocades, laces and trims. Varieties of satin are evident in the silk satin gowns of the 19th Century and the synthetic-based fabrics of the 1930s and 1940s. Keep an eye on popular fashion colors and patterns as they appear through the 19th and 20th Centuries. Know the muted pastels, earth tones and abstract roller prints worn in the early 19th Century. Checked and tartan plaid silks were popular in the 1850s (Photo 8) and 1860s. Iridescent, jewel-toned taffetas of the 1950s (Photo 9) are unforgettable. Look for whimsical prints worn during the 1930s (Photo 10). Do not forget the wildly bold color combinations in the 1960s. Different combinations of lime green, bright yellow, hot pink or bold orange worn together can date your garment down to a specific year.
Collectors can use similar tips to help identify hats and accessories. Headgear in the early to mid-19th century is easy to identify. The majority of popular headwear consisted of woven straw, plain or drawn silk bonnets and fabric caps before the middle of the 19th century. Middle-to-late Victorian and Edwardian hats require diligent homework to study the millinery varieties that were shaped to compliment the changing coiffures of Victorian and Edwardian women. Wearing the hair pulled up, down, or to the sides explains the shapes and varieties of antique and vintage bonnets and hats that might stump puzzled collectors.
The most fascinating and varied hats are those of the late 1930s to early 1940s. Whether tilted or toy, cone-shaped, turban, open crown cartwheel or pancake varieties, these hats are distinctive to their time period and easy enough to place into a decade. Collectors can be relieved that some hats are easy to date to a specific decade. The small, close-to-the-head styled hats appear in various familiar varieties during the 1950s. The classic pillbox of the 1960s is not uncommon to recognize.
Before you go shopping, the wise collector will do his or her homework based on accurate research to find more treasures. Successfully building up a collection requires proper dating and identification. Collectors must rely on the legitimate knowledge acquired through study of fashion fads and features. They should use their eyes and other senses to make first-hand inspections of fashion articles. The result will enable you to undoubtedly scope out terrific finds and wonderful bargains.
Online shoppers should ask as many questions as possible regarding condition, fabrics, trims, interior construction, presence of hand or machine stitches, closure methods such as hooks, snaps or zippers and the presence of alterations to ascertain the age and/or legitimacy of the piece. A clear and thorough description is crucial to evaluate before purchasing. All these preparation methods avoid confusion and unnecessarily paying for something when you think it is one thing then discover later you were incorrect.
Collecting antique and vintage clothing, hats and accessories is a fascinating hobby. No other activity transports you so clearly into another decade of our past. We all identify with fashion as a means of self-expression. Enthusiasts might imagine wearing such finery back then or perhaps wear a treasured piece even now. Collectors can feel satisfied that they are finding oneof- a-kind pieces of our common history intending to preserve them for future generations.
Accurate dating and identification is a mandatory step before assessing the value of your collection. Dating enables better management and organization. Affixing a year date to a garment allows a collector to properly match it with a period correct hat or accessory. Whether you collect or wear vintage, perform historical reenactments, preserve artifacts in a museum or design costumes for cinema or theater, the importance of properly identifying what you have can't be stressed too much. Trust your memory, eyes and other senses. Do your homework and become responsibly active in discovering and taking care of what you own. This is the best defense a collector can have in a competitive market. Proper knowledge gives you the power to make key investment choices in a piece of clothing that will be an asset to your collection.
Photo 9: Iridescent gray taffeta dress
with black velvet details and wide hip pockets dating to the year 1950.

Photo 10: Adorable yellow day dress dating to 1932 displays a whimsical print, faux buttons and novelty hip pockets.
_________________________
About the Author: Barbara Johnson, Ph.D. is a sixteenth-century British cultural historian. She specializes in the material objects of Elizabethan and Jacobean aristocrats and their lives in their country homes. She is the author of Antique and Vintage Fashions, 1745-1979 by Collector Books, August, 2009 and Valentines, A Collector's Guide 1700s- 1950s, by Collector Books, 2010. Books are available at www.collectorbooks.com, in bookstores and online.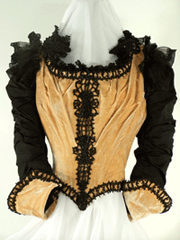 Photo 1: Apricot velvet, black taffeta and jet-trimmed evening bodice with cavalier-style cuffs dating to 1883.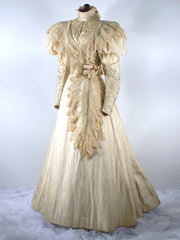 Photo 2: Elaborate ivory-patterned silk wedding gown with lace, asymmetrical features and smocking dating to 1896 due to the unmistakable shape of the sleeve.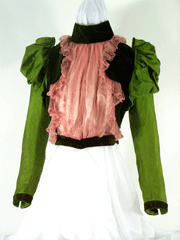 Photo 3: Remarkable 1897 bodice with characteristic sleeves, pink satin topped with pink chiffon, and dark green velvet accents contrasting against light green silk.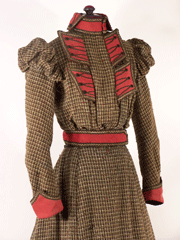 Photo 4: Checked wool day dress with unique sleeve and high neckline dating to 1898.

Photo 5: Lilac crepe dress with pleated peplum and lace cupid climbing a rope appliqué dating to 1946.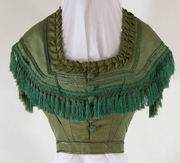 Photo 6: Green silk evening bodice dating to 1863 illustrates the year's characteristic neckline, fringe, piping and buttons.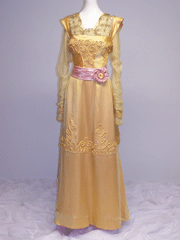 Photo 7: Golden yellow silk
satin gown with gold metallic lace, contrasting pink trim and soutache embellishments dating to 1918.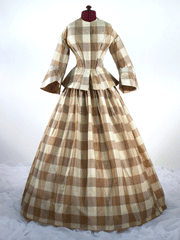 Photo 8: Brown and cream plaid silk gown dating to 1857 displays bellshaped sleeves and peplum.