Paris Porcelain Boxes
By Jim and Susan Harran
Posted March 2011
"The box has been used to protect, contain, or simply to decorate, for centuries.... It has been made of every possible material and in every decorative style in history. Beautiful boxes, perhaps more than any other small decorative antiques, have been preserved and collected."
(Marion Klamkin, The Collector's Book of Boxes)
Boxes have existed from the time the first person decided to protect his precious belongings. In Ancient Egypt, a large number of boxes in varied shapes were discovered in Tutankhamen's tomb. Cosmetic boxes with mirrors, game boxes, and a jeweled double box were found. Small boxes known as pyxides were used to store salves and toiletries. In 2500 BC, terra cotta boxes were made in India.
When porcelain making was perfected in Europe in the mid-18th century, society became intrigued with porcelain boxes. Artists made them in all shapes and sizes and painted them with great care. The making of these boxes took considerable time and required great skill. The material is well suited for painting, and a number of artists used their talents to make works of art. The variety of a porcelain box collection is only limited by the imagination and budget of the collector.
Some of the most readily available antique boxes found in the marketplace today are those made in Paris. Most are excellent quality and reasonably priced.
Paris porcelains are made from hard paste and were made or decorated in and around the city of Paris from 1770s until the late 19th century. Some sprung up in the old faience manufacturing district in northeast Paris. Around 1850, there were about 75 decorators in the area. Most of the shops did not make the porcelain, but purchased white ware from factories in Limoges.
Most antique snuff boxes found today are likely to be Paris copies of an earlier design made by Sevres, Chantilly, St. Cloud or Mennecy. These later examples are almost as interesting as the originals made in the 18th century. At least half of the boxes had no trademark at all. Others were marked with a phony Sevres mark, and a few had the trademark of the Paris studio that decorated it.
Listed below are a few of the most well known decorating studios in Paris. They produced a variety of beautiful porcelain boxes.
Jacob Petit. Jacob Petit is one of the best-known Paris porcelain decorators. He was trained as a painter and traveled all over Europe visiting porcelain factories and decorating studios before opening up his own porcelain company in 1834 at Rue de Bondy in Paris. A few years later, he established a larger factory in Fontainebleau where only ornamental articles were produced. He sold his company to one of his employees in 1862. Jacob Petit was a great designer and drew inspiration from many manufacturers and various periods. His products were quite ornamental and decorative. A box signed "Petit (JP)" would be rare and quite expensive.
Porcelain De Paris. This decorating studio was begun at Rue de la Pierre-Leveé in 1773 by Jean Baptiste Locré. Three generations of the Clauss family took over operation beginning in 1829. It went through several changes in management until the Achille Bloch family took over in 1888. The company is still in operation today producing luxury porcelain and expensive table services.
The Porcelain de Paris company made many hinged snuff boxes, etuis, patch boxes and table boxes. Many are heavily decorated with hand-painted flowers and raised gilt. Some were oval, heart, or cartouche shaped or in the form of musical instruments, bellows, kegs and shoes. They first copied the marks of other factories, using the crown N back stamp of the Naples factory Capodimonte, interlocking L's of Sevres, and crossed swords emblem of Meissen. They began applying their own marks around 1869.
Samson. Edme Samson began the company Samson, Edme et Cie in Paris in 1845. His intent was to make reproductions of early ceramics displayed in museums and private collections. The factory was moved to Montreuil, Seine-Saint-Denis, in 1864 by his son Emile Samson. The company closed in 1969.
The company got inspiration from other factories or directly copied their pieces. They copied Meissen, Sevres, Chelsea and Derby porcelains, Italian majolica, Persian-style items and Palissy. They made many boxes copied from Chinese famille rose styles between 1720-1790 and Japanese Imari wares. They copied the soft paste boxes of St. Cloud and Chantilly, using cream-colored earthenware to simulate the soft paste porcelain.
Samson didn't set out to deceive the public with his reproductions and claimed all his products would be distinctly marked to avoid confusion. Later, some unscrupulous dealers removed the Samson marks in an attempt to defraud the public.
Samson made snuff boxes and patch boxes, copying Chinese export boxes with armorial themes and polychrome flowers. He also made Chantilly figural boxes, such as a man and woman in bed and a lady on a chamber pot.
Paul Bocquillon. Paul Bocquillon of Faubourg St. Denis, Paris, is not well known now, but he specialized in the reproduction of old china and earthenware in the 19th century. He made a variety of hinged boxes, including Capodimonte style and used a gold anchor mark.
Feuillet of Paris. This was a Paris decorating shop located at Rue de la Paix ca. 1817-1845. Feuillet decorated Sevres blanks in the 18th century style. One of his trademarks was encircled L's with an F in the center. He made a variety of hinged boxes.
Mansard & Houry. This was a Paris partnership active at the end of the 19th century until the early 20th century. They produced reproductions of Sevres boxes, including some nice quality casket boxes.
Pouyat & Russinger. This partnership was descended from Jean Baptiste Locré's company. Russinger became the sole owner 1787-97 and then brought in Pouyat and Sons c. 1808-1825+. The factory produced outstanding porcelain in the Meissen style. Exceptional boxes were produced by this Paris company.
___________________________________
To learn more about porcelain boxes, you may order the new book, Antique Porcelain Boxes, by Jim and Susan Harran (Collector Books). It is the first of its kind with price values, and all pieces shown are readily available in the marketplace. The book is available from bookstores, or for an autographed copy, send a check for $28 including media mail shipping to: Susan Harran, 208 Hemlock Drive, Neptune, NJ 07753.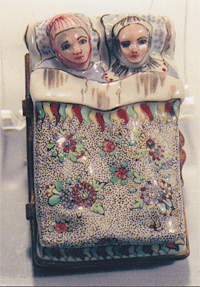 Figural snuff box by Sampson, c. 1890-1910, patterned after 18th c. box by Chantilly. Hinged fi gural box, 3.25 x 2 1/8 x 2 inches; fi gure of man and woman in bed, beautifully hand painted with polychrome Oriental fl owers.
Top Box: Trinket box by Bloch & Cie, Paris, c. 1887-1900; artist signed, M. Garcia. Hinged, cartouche-shaped, 3 x 3.25 x 1.25 inches; pink ground with raised gold cartouches with two cupids on lid, landscapes on sides; $700-$800.
Bottom Box: Snuff box by Arnold Ruh-Leprince, c. 1890s. Bellow-shaped hinged box, 4.25 x 2 x 1.25 inches; courting scene on lid, raised gilt. $350-$400.
Snuff box by Sampson, c. 1876-1884; replica of early hinged snuff box, 2.33 x 1.75 x 1.25 inches; coat of arms and fl oral decoration; $150-$175.