MIRROR, MIRROR ON THE WALL
The History of the Mirror
By Sue Loustalot; Contributing Editor, Daniele Gair
Posted February 2012
A beautiful antique mirror can be one of the grandest pieces in a home. However, few people know where the true value of a mirror once lay. Today, we find value in the beautifully-decorated frames, but just 170 years ago, it was the mirror glass itself that was most precious.
England's King Henry VIII and France's Francis I were both avid collectors of mirrors. If there were anything fit for a king to collect, it was the mirror. While we may take it for granted today, the mirror was once literally worth its weight in gold, and only the most affluent could even hope to own even a very small example. A medium-sized Venetian mirror was comparable in price to that of an aristocrat's country home. Some French nobles were even known to sell off their smaller country estates just to purchase a single mirror.
Ancient Beginnings. While our ancient ancestors fashioned mirrors from polished stones as early as 4000 B.C., it wasn't until the 1st century A.D. that the Romans introduced a very rudimentary mirror made of glass. The early Church viewed the mirror as a symbol of sin and vanity, and it was forbidden for priests to own one. Pope John XII declared, "The Devil can conceal himself in a phial or a mirror."
Devil or no devil, glass mirrors all but disappeared during the early Middle Ages. However, this lost art was soon rediscovered, as the invention of new glass-blowing techniques in Renaissance Europe refueled the interest in mirror production.
New Techniques Bring Great Advances. Glass blowing revolutionized the production of mirrors, and by the 16th century, it was the Venetians who would turn their attention to making these luxurious items, inventing a method for making a reflective surface of flat glass. Hand-blown mirrors were a very serious business, and the Venetians fiercely guarded their techniques. Any Venetian craftsman who dared breech that secrecy faced imprisonment and even execution.
The most talented glassmakers were taken to the small Venetian island of Murano where they were kept isolated from the rest of the world. Europe's monarchs, desperate to get in on the action, avidly engaged in spying and espionage in an attempt to uncover these closely held secrets.
As if their isolation were not enough, these artisans were also prisoners of a very dangerous craft. Injuries, many fatal, were commonplace as workers handled molten glass and worked near extremely hot and volatile furnaces. Reflective backings were made of mercury, whose toxic fumes eventually sickened and killed many workers.
So why risk so many lives for the sake of vanity? The mirror's value was not just about appreciating one's appearance. Small mirrors were used throughout Europe to code and decode messages, a system devised by Leonardo Da Vinci who wrote in mirror code. Even the scriptures were coded in mirror reflection. During the Thirty Years War, mirrors were used to create massive reflections that would blind the enemy on the opposing field. The periscope was also invented during this period, employing a system of angled mirrors that made spying much more discreet.
In 1687, three Murano glassmakers were bribed and brought secretly to France where they revealed the Venetian's mirror making secrets, effectively shattering the Murano monopoly. The French went on to improve upon those techniques and soon invented a new method for casting glass in larger sheets.
This new technique, though difficult and dangerous, allowed for much larger sheets of flat glass and ushered in a new age of decorating with mirrors. Just a few years after this discovery, work began on the famed Hall of Mirrors in the Palace of Versailles. This magnificent room featured 306 massive mirrors—a feat never achieved before in the history of mankind. Because of these mirrors, this room became the most famous interior in the world.
These mirrors were also created as lasting symbols of wealth, status and beauty. Today, Venetian Murano mirrors are highly desirable to collectors and command high prices at auction. In March 2011, a late Louis XV Murano mirror fetched 40,000 Swiss francs, or US $42,484.65. As Bill Rau, President of M.S. Rau Antiques in New Orleans, points out, "Because of the artistry and craftsmanship that went into creating mirrors and their frames, each mirror is a work of art unto itself."
A New Age for Mirrors. Cabinetmakers such as Thomas Chippendale and John Linnell imported French glass to satisfy the tastes of their wealthy English clientele. To be certain, mirrors continued to be incredibly costly, since their manufacture proved as dangerous and delicate as ever. Some relief came in 1835 when a German invented a new method of backing sheets of glass with real silver, forever replacing the toxic mercury.
As techniques varied, so did the craft of framing mirrors. Because the mirror was so incredibly expensive, it only made sense to craft frames befitting this precious glass. Even the most magnificent frame would cost only a fraction of the price of the actual mirror, so patrons commissioned the most magnificent frames crafted of every material imaginable. The frame makers were typically highly skilled artisans who specialized in crafting frames of incredible complexity and beauty. It is ironic that today, it is the frame where most of the value of a fine mirror lies.
Like furniture makers, these frame craftsmen followed the fashionable trends of the day. Mirrors became focal pieces in fine interiors, and there was no shortage of frame styles to meet the demand.
As mirror glass was still so expensive, it was very common for artisans to rework and embellish existing frames to accommodate changing styles. Though a broken mirror was considered bad luck, it was often financially more prudent to rework a frame to accommodate a valuable cracked pane than to replace the mirror glass itself.
Frames can be found in any number of materials, but the gilded frame was often a favorite choice for many reasons. Like the mirror itself, gold was very costly and precious, and so it seemed only fitting to be used as the material to embellish the frame of a very expensive mirror. Like the mirror, gold was highly reflective, furthering the mirror's ability to reflect light in an interior. Gilt-frame mirrors are in great demand even today, as specimens both of gilded wood and metal have reached six-figure prices. For example, a Venetian Italian mirror with a carved giltwood and painted faux marble frame, dating to the mid-18th century, was auctioned for £205,250, or $318,577, in July 2010.
Frames crafted of highly polished mahogany or those embellished with intricate inlays or Boulle work also found favor in the interiors of Europe's finest homes. Veneered frames and those boasting precious gems or glass mosaics were popular as well. Indeed, the frame maker's palette was only limited by his imagination, as well as his patron's pocketbook.
The best of these frames still appear on the market today from time to time. An English William & Mary Period mirror with a marquetry frame was auctioned in June 2010 for $20,000, while a Charles II mirror set within a frame of stumpwork and tortoiseshell realized a price of £10,000, or $15,519, in July 2011.
Choosing the Right Mirror. When selecting your mirror, ask if there have been any extensive restorations. Many frames, particularly those hailing from the late 18th and early 19th centuries in the neoclassical style boasted complex floral swags and garlands that over the years were easily damaged. Damage of this sort can be repaired, but be wary of examples where the repaired areas are larger than the original, intact areas. Also look for a consistency in the overall patina of the frame. Splotchy patches or extensive discoloration may indicate a poor restoration.
To be certain, an antique mirror glass should not be perfect. Silvering is often worn, and small chips may be present. While there are ways to resilver an original glass, remember that blemishes, or "diamond dusting," are highly desirable. Collectors consider these "beauty marks" a testament to the original glassmaker's art. If you are using your mirror on your dressing table to apply makeup or in a powder room, you may consider having it resilvered. Otherwise, enjoy the charm and rich patina of your antique mirror glass.
When choosing a mirror for any room in your interior, keep in mind that though they don't take up much space, they do give the impression of creating it. Small rooms are instantly larger when a mirror is placed in it. Pier mirrors were often placed between windows where the wall was dark to add instant light and air. So don't assume that your small room will need a small mirror; just the opposite may be true. You will also want to consider how the mirror's frame will blend with your interior before making a selection. Finally, when choosing a mirror, take your personal tastes, as well as the mirror's size and your budget, into account. The sheer variety of shapes, sizes, patinas and finishes spoils one for choice. Says Rau, "It's all about what excites you."
In our modern age of mass production, it is easy to forget that the things we take for granted, such as the mirror, were once considered extremely precious. Even so, if you have a keen eye for beauty, you will readily recognize the allure of a fine antique mirror. It may be true that the value of the actual glass has taken a back seat to the frame of a mirror, but a true collector or connoisseur will certainly appreciate both of their histories.
-----------------------
M.S. Rau Antiques (www.rauantiques.com) is one of the most respected names in antiques, fine art and jewelry in the world. A New Orleans landmark for nearly 100 years, its two 30,000+ square-foot French Quarter galleries offer the finest antiques shopping in the world, backed by an unwavering pledge of quality and customer service. Visitors will find one of the world's most extensive collections of rare antiques, fine art and stunning jewelry, featuring silver by Paul Storr and Paul Revere, works by artists including Monet, van Gogh and Pissarro, and pieces by makers such as Fabergé and Tiffany, among countless others. Gallery hours are 9 a.m. to 5:15 p.m., Monday through Saturday. For more information or details on this exquisite piece, contact M.S. Rau Antiques at www.rauantiques.com or 1-800-544-9440.
This Thomas Chippendale-inspired George III mirror is crafted of giltwood with flourishing Rococo elements and original glass; ca. 1820; 54.5 x 87 inches; valued at $78,500.
Louis XV-style French mirror featuring an intricately carved giltwood frame composed of beveled glass and falling acanthus leaves, C scrolls and quatrefoil trellis accents. Large mirrors such as this (42 x 82 inches) are incredibly rare; ca. 1860; $24,500.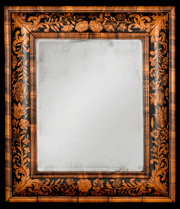 An incredibly rare ca. 1695 William and Mary-period marquetry mirror with original silvered glass and hand-crafted cushion frame of inlaid walnut marquetry; 28 x 33 inches; $28,500.
An elaborately carved French "cushion" mirror crafted in the Rococo taste with a gilt frame of flowers, griffons, shells and acanthus leaves carved from wood and gesso; 50 x 86 inches; ca. 1830; $38,850.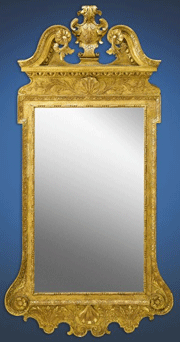 : A ca. 1775 George II gesso gilt mirror, marked by a vast array of carved and applied decoration; 26.75 x 52.5 inches; $44,850. Circa 1775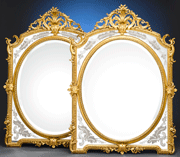 A pair of French gilt mirrors in the Rococo style with flawless gilding and intricate egg-and-dart molding and etched glass; ca. 1875; 38 x 51 inches; $48,850