Many Glazes and Shapes Defined Early American Art Pottery
By Anne Gilbert
Collector interest for early American Art pottery continues although auction prices are for the most part are under estimate. Good pieces still come to market so it is a good time to buy. As in all collecting categories, it is wise to know what is a bargain and what isn't. It is important to recognize the many types of glazes, techniques and forms, as well as important artisans.
Would you know a piece of Mission ware or an atypical example by "the mad potter" George Ohr? In the case of Ohr pottery, most familiar are his grotesque head vases. Less familiar forms can go by unrecognized and be worth more than $2,000. While just about every collector is familiar with Rookwood, Roseville and Grueby pottery, how about Overbeck?
CLUES: When it comes to form, most collectors think of Teco pottery. It was first introduced in 1902 by William Gates. The name came from "te" in terra and "co" in cotta. His vases in large sizes, and architectural form, green glaze can command $30,000 these days.
Mission ware that suggests Southwestern skies and deserts was actually created in Arkansas in 1910, using naturallycolored clays. The result was a marbleized look. The pottery works were named "Niloak," which backwards spells "kaolin." Kaolin was used for centuries in the Orient to make porcelain.
Newcomb pottery was made in New Orleans from 1899 to 1945. Early pieces can be recognized by incised designs. The glaze was transparent and glossy. Metallic luster glazes turn up in Weller pottery created by Jacques Sicard. Prices can be over $2,000. The effect is similar to Tiffany Favrile glass.
However, the greatest variety of glazes was created by Rookwood pottery. Every name describes the glaze. For instance, "tiger eye," created in 1884, uses gold flecks with a brown-orange glaze that suggest the eye of a tiger.
Vellum, a matt glaze with the look of old parchment, took many years to develop. It was introduced in 1904 at the St. Louis Exposition.
There are many art pottery makers that you may never have heard of, but are worth learning about. One example is the Overbeck pottery founded by four sisters in Cambridge, Indiana. They made pieces both on a wheel and also commercially. Their pieces have a stylized monogram mark that resembles a teapot with a face or initials of the designer or potter. When examples come to auction, prices can fetch more than $7,000.
Research American art pottery in the many books on the subject and go hunting.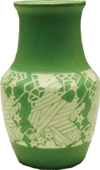 Overbeck vase with
incised figures.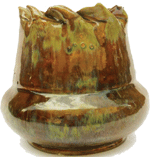 George Ohr vase, waisted shape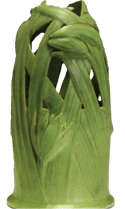 Rare Teco vase, matt glaze.
(All photos: Toomey Galleries,
Oak Park, Ill.)