American '50s, '60s Studio Pottery Still Affordable
By Anne Gilbert
It is still possible to begin a collection of American studio pottery from the 1950s and '60s at relatively modest prices. Some of the top names are becoming more familiar to collectors of furniture and glass from the mid-century. Potters such as Mary and Edwin Scheier, Polia Pillin, Gertrud and Otto Natzler and Beatrice Wood have had a following for some time, yet for the most part can sell for under a thousand dollars at auction. More unique items have fetched several thousand dollars. At the December John Toomey auction in Oak Park, Ill., an unusual vase with the painted design of a woman and birds, signed "Pillin," sold for $425. A Beatrice Wood bowl, an attribution, sold over estimate for $1,200.
Another well known American studio potter, Rose Cabat, was represented at the auction. A beginning collector could have purchased a small bowl for $425. At a May auction, a Scheier vase with interesting incised figures and fish fetched $900.
Much of the collector appeal is that each piece is a one-of-a-kind showing the varied techniques of the artists.
The mid-century pieces are quite different than the art pottery movement that began in the United States in Cincinnati, Ohio, in 1871 and evolved and grew through the Art Deco period. Pieces from the 1950s and '60s were a reflection of each artist's philosophy, be it Zen or Abstract Expressionism, popular in the mid-'50s.
In the early 1950s, many potters, along with furniture and glass designers, were influenced by the currently popular Scandinavian influence. The Schierers were known for their geometric designs incised into their pottery. Often, their designs were abstract, or they used biblical themes in a primitive and linear graphic style.
CLUES: There are several ways to approach collecting in this category. While there were many studio potters working in the 1950s and '60s, not all are top quality. Important are the textural quality of their glazes and the shapes. For instance, Gertrud and Otto Natzler are known for the textural quality of many of their glazes. Multi-decorating techniques, such as incising, can add to the value.
Coming to auction more often, with good prices, are the California potters who worked in the same time frame. Among the important studio potters is Laura Andreson, whose work was influenced by her world travels and her association with such important potters as the Natzlers, Vivika and Otto Heino.
Another important California studio potter is Beatrice Wood. However, they shouldn't be confused with the inexpensive and mass-produced pieces that were sold in gift shops and souvenir shops.
It's a good idea to get a hands-on experience at the many mid-century and Modernism shows held around the country. There are many pieces waiting to be discovered.

Pillin vase, bulbous shape.
Scheier vase, bulbous footed form with insizing. (Photos, courtesy John Toomey Gallery, Oak Park, Ill.)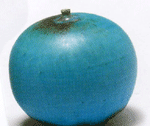 Cabat vase, brown clay body
covered with turquoise matt glaze.