Vintage Paper Doll Collections Still Come To Market
By Anne Gilbert
Surprisingly, collections of uncut vintage paper dolls are not only around, but can be reasonably priced, depending where you find them. When we say "vintage," we are referring to paper dolls made mid-20th century. Bunte Auctions in Elgin, Illinois, recently offered 151 lots on eBay from private collections. Among the most interesting were: two Marilyn Monroe paper dolls with six pages of costumes; a Gone With The Wind reprint featuring Clark Gable and Vivian Leigh, stars of the film; and "Well Dressed Girl" featuring fashions of 1959.
Sometimes, antique paper doll collections come to auction, some dating as early as the early 19th century. Such was the case at a 2003 Skinner auction where there was a threedimensional figure of the 1830s, dressed in a delicate, handmade tissue costume trimmed in gold leaf paper. It fetched $999.
Paper dolls have along history. They were first reported in 1280 by explorer Marco Polo. He told of seeing paper figures of human beings as part of Chinese religious rights. However, paper dolls as we know them weren't seen until the 18th century, when often life-size, jointed paper dolls were created and used as jumping jack toys or marionettes.
In the early 19th century, paper dolls printed on sheets of flat paper were made in Germany, France and England. Some were hand-painted in color while others were printed in black and white to be colored by the buyer. The subject was usually ladies and their wardrobes.
It wasn't until around 1854 that paper dolls were made in America for children. The publishing company of Crosby, Nichols & Company of Boston created a paper doll named Fanny Gray that came with several costumes and a book of verses along with a box and wooden base. Godey's Lady's Book began publishing a complete series of paper dolls, six girls and six boys, in 1859. They came with a set of the newest fashions.
The best known publisher of 19th century paper dolls is Rafael Tuck & Company, Ltd. of London. He is considered to be the originator of celebrity paper dolls. They included his "Six Famous Queens" series, as well as famous stage stars of the day, such as Jenny Lind and Maude Adams.
By the early 20th century, newspapers and magazines, such as McCall's, Ladies' Home Journal and Woman's Home Companion, offered the Lettie Lane Paper Family and the Rose O'Neil's "Kewpies". In the 1930s, newspaper comic strips offered paper dolls of the comic characters.
CLUES: Whatever you do, don't cut paper doll discoveries. Better to frame them.
Keep in mind there have been reprints made of some of the most popular vintage paper dolls. Look for the copyright date.
Marilyn Monroe, uncut with
six pages of costumes.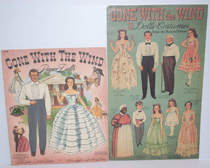 Gone With The Wind,
uncut, a reprint.
(All photos: Bunte Auction Service, 755 Church Road, Elgin, IL. 60123, 847-214-8423.)