The Celebrity Collector
Ursula Andress, The first Bond girl collects many fine antiques
By Mike McLeod
The new James Bond movie, Die Another Day, debuted not long ago, and starring alongside Pierce Brosnan will be the new Bond girl, Halle Berry. Ms. Berry is the current beauty among a bevy that all started with Ursula Andress and her famous exit from the sea in Dr. No.
Ms. Andress is a great collector. I spoke with her by phone when she flew in from Rome for her son's graduation from college. While there, she was heading for the antique shops in Fredericksburg, Va.
Here is our conversation.
What do you collect?
Ursula Andress: "Everything that's beautiful. A lot of things. Collecting is my joy; it gives me great satisfaction. When I go to a country, I go to flea markets, antique stores. I am always looking for something. It's easy to walk in an antique store, and even if you have $20,000 to buy an item, you still try to get a good price. I collect furniture, rugs, paintings, frames. I like to look. It's my hobby to go around to shops and markets.
"If I don't have room for an item, I put it in warehouses. I'm waiting to have a big castle or country home to put all of my collection in. I have an attic full of stuff in my friend's house in Virginia.
"My home is the world. I live a little in Spain, the U.S., Italy and Switzerland, and I collect from all over the world-Shanghai, in the Andes, Kuala Lumpur, Hungary, Romania. I go to antique and flea markets in the old quarters of the cities. Pottery, paintings, china, English furniture, rosewood, empire furnitureI have a chest of drawers with a desk in it. "
How did you get started collecting?
UA: " I have always collected. I wanted to be a decorator. I wanted to interior design homes and do everything myself."
Do you have a favorite piece in your collection?
UA: "Everything is a piece of me, a moment of my life. Once, a big pair of Venetian lions was stolen from me. They were life-size, polychrome gold leaf on wood from 16th century Spain. I got them back. I worked on it for 6 months. I tracked them (the thieves) down and found them. Don't take anything from me because I'll track it down. Collecting is my passion."
You have also created some collectibles in your time. Your bikini from Dr. No, which you designed yourself, sold for £35,000 at auction. That's an impressive price. Were you surprised?
UA: "I thought it would sell for $150,000, but the auction was after September 11, and the stock market had gone down."
People in the world are enthralled with everything James Bond. Do you have any collectibles from the movie?
UA: "I mostly gave away what I had."
Which movie that you've made is your favorite?
UA: "I have no favorite. I don't go to my movies. I didn't see Dr. No for a year, but I liked it when I saw it. It was a fun movie. I don't like the Bond movies now. I hate special effects; everything is done in special effects. I like the real movies-on islands, an adventure story with some action, but not action every second."
Who is your favorite leading man?
UA: "I don't have a favorite. I have been lucky to work with lovely men-Elvis, Woody Allen twice, Orson Welles, Peter O'Toole, James Mason, Marcello Mastroianni. I adored Elvis; he was the kindest man there was. At the beginning, I was not fond of him. You know, you judge people by what you read about them. But Elvis was adorable, so sweet, nice, and kind. We continued to be friends, and I saw him once or twice a year. But he was a troubled person."
Will we see you on the big screen in the future?
UA: "I don't have any movies planned. It's hard to make movies today. They have all changed to action and violence. That's not my style."
Some interesting facts about Ursula Andress:
She was paid $10,000 for her role in Dr. No.
Her voice was over-dubbed in Dr. No (by the woman who was the Istanbul hotel clerk in From Russia with Love).
She almost did not get the role of Honey Ryder in Dr. No-Julie Christie was first considered for it. (Julie Christy??)
She was recently voted the sexiest Bond girl and the scene of her emerging from the sea was voted the best scene with a Bond girl-by the readers of Hotdog magazine.
She was born in Switzerland on March 19, 1936.
She has four sisters and one brother.
She was a co-winner of the Most Promising Female Newcomer Golden Globe award in 1964, along with Elke Sommer and Tippi Hedren.
From 1957 to 1966, she was married to John Derek, who later married Linda Evans and Mary Cathleen Collins (who later changed her name to Bo Derek for good reason).
She has a son with Harry Hamlin.

2003
Don't be deceived by her sultry looks - Swiss-born Ursula Andress is a fierce and protective collector.
Andress has starred with Dean Martin, Peter O'Toole, James Mason and many more.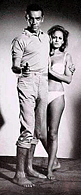 With Sean Connery in "Dr. No."
Elvis was reportedly so intimidated by Andress' figure that he was afraid to take his shirt off in front of her.