| | |
| --- | --- |
| An Interview With Mike Wolfe of American Pickers | |
American Pickers, the History Channel show and the men themselves, have become a phenomenon with more than five million viewers who are enthralled with the life of a picker and the thrill of the hunt. American Pickers was the No.1 new cable show of 2009, and it is helping to reenergize the collecting field.
I recently had a chance to speak with Mike Wolfe about the show and some of his experiences.
How was the show created? Did you go to the History Channel and pitch them or did they come to you?
Mike Wolf: I pitched the show for five years. Before then, I was always on the road finding great stuff. I shared some of my experiences with my friends, and they said, ďYou should buy a video camera,Ē so I did. I put it on the dash and talked into it as I drove around. I made videos and posted them on my website. With those videos, I started pitching the concept, and I finally sold it to the History Channel. It was a five-year process.
What collections have you seen that have really blown you away?
MW: A judge I met in Florida has an incredible collection of petrobilia, signs and gas pumps. A lot of people have beautiful collections that are clean and on display. This guy, his stuff was piled on top of each other.
For me, I want to know why people go down this path, why they buy all high-quality stuff. For this guy, it was because he worked in a gas station when he was 13. Just that one experience changed his path. Thatís what interests me. I go in, and people have one hundred or one thousand of one thing, and itís the back story that is intriguing to me.
Which people really touched your heart or affected you strongly?
MW: I recently picked a guy who was the ďcurator of his life.Ē Since he was a boy of about seven, he preserved things and categorized them. He went to a Boy Scout Jamboree in 1973, and he had all he collected there in a bag - T-shirts, pennants, patches. It was all in a bag, categorized like CSI. He had been doing this since he was a little kid. It was a great thing. It really pulled on my heart strings, how he loved his stuff so much and couldnít let it go.
People never want to let go, and it ends up deteriorating. Like Hobo Jack, he started collecting Victorian-era stuff, and he kept it in an old building. Now, it is rotting. I donít know if he will ever understand.
Just watching that unfold, it really drags you in. That is why I started this project. I wanted to tell their stories and show their items. I also wanted to show that a picker gets to see something firsthand. It is the best job in world. We take things and sell them and put them in their place.
| | | |
| --- | --- | --- |
| | | |
| | | Contact us to place your upcoming antique show and event information here. |
Some people can get a little, shall we say, eccentric with their collections. Have you ever visited people that you could have referred to some other show like Hoarders or the OCD Project?
MW: I watched Hoarders last night. The hoarder talked about the thrill of hunt, that they were excited to find something on a hunt. Thatís the same thrill we get. But the people we come across are collectors; they are proud people who are proud of their collections. On Hoarders, no one was proud.
Even when you look at collections that are stacked on top of one another, the collectors are still proud of them. Thatís the separation between a collector and a hoarder. A hoarder may start out proud, but they arenít in the end.
You have met some interesting collectors, like the guy who dug tunnels under his house.
MW: The Mole Man, his whole house was underground. He started digging in 1968, and he is probably still digging now. He was a good guy with great stuff. It was the weirdest situation, though. I wouldnít have gone in there without a film crew. We could only show a quarter of what we filmed. We shot for two days and only showed six minutes of film.
Are you planning a spinoff of the show, something like American Pickers in Great Britain? I would love to see you guys traveling the back roads of Wales and knocking on the door of a stone hut with a moss roof.
MW: We have talked about it. The History Channel is now filming Canadian Pickers, which will be shown on History Canada. They show American Pickers on History Canada now. One reason why I came up with this name and format for the show was so it can be done elsewhere. History Channel owns the name and the show so it can be delivered in any country. I donít know how far theyíll take it.
Has the success of the show with millions of viewers per week surprised you?
MW: It blows me away. I didnít know the show would grow so deep or that so many kids would watch it. Kids in their early 20s, thatís the CPR needed in this industry. I am 45, and Frank is 46. When we go to [antiques] shows, we are the youngest ones there. Three shops have closed here [in LeClaire, Iowa] in the past three years. But now, we get email from auctions, shops and people talking about the industry and caring about it again. It is breathing new life into collecting.
How many weeks are you on the road for the show?
MW: Two to three weeks per month. Next month, I will be home three to four days.
Before the show, what was the farthest you have traveled to pick?
MW: I have picked all over the U.S.; what you see me doing is what Iíve always been doing. I have picked the West Coast and the East Coast. I have made a living on the East Coast for the last 10 years, just because of the barns out there. It is not unusual to see three or four generations of stuff laying in there.
Do you or Frank have wives and children?
MW: Neither of us is married or have kids. I have two dogs. Frank has a cat.
When you arenít filming or on the road picking, what do you do?
MW: I get to the shop early and do stuff. So many people come into the shop each day that I get out early. Tour buses come, and we get 300 people per day in the shop in this little town in Iowa.
It is a totally new experience, having a shop. I had warehouse before. I will be opening a shop in Nashville in the spring. I have a house there so it makes sense to open a shop and do more property rental for movies and so on.
Will Danielle (the office manager, Danielle Colby Cushman) ever get to go on a road trip with you two?
MW: You will have to watch the show to see, but I can say you will see more of her this season.
You seem to stick to a few categories of collectibles and antiques, like bikes, motors, petroliana, toys, and coin-ops. Are you going to branch out into rococo furniture or Lalique glass in the future?
MW: I have found other stuff, and I buy modern furniture. Industrial is hot now. I will buy 30 things, and only show two of them on the show. You canít show it all.
Have you ever been chased away at gunpoint?
MW: One time, a guy opened the door and stuck a pistol in my face. All I could think of to say was, ďHey is that [pistol] for sale?Ē I didnít buy anything there.
I havenít had too many of those experiences. I can probably count on my hand how many times I have been run off.
What item has haunted you that you did not get?
MW: Motorcycles, some early stuff I found; 70% of the stuff I find, I canít buy. It is not for sale. A pre-1915 bike haunts me. Thatís what keeps me on the road.
One question Iíve heard a viewer voice: when you buy something that turns out to be a very valuable item, can you go back to buy more from that seller after theyíve seen the value of the item on the show?
MW: Do you remember the saddle story? It was the first saddle I ever bought. I donít know why that guy appraised it for 5k. I put it on eBay, and it did not sell. I sold it in my shop for $150 and that was because the buyer wanted me to sign it.
Thatís the thing with appraisals-what it is worth is what someone is willing to pay for it.
I have gone back and given people more money for items I bought from them. My business before the show was based on leads and referrals. Going back and giving the seller more money, thatís good for your mojo.
You and Frank have been interviewed on Nightline, by USA Today and by the New York Times. Now, youíve really hit the big time with Southeastern Antiquing Magazine.
MW: You are in our industry, so thatís the neat thing. Thatís most important for us.
In the NYT, Frank was quoted as saying, "Weíre looking for people who donít have a brand-new truckÖpeople who donít have a satellite dish." How do you find places to pick?
MW: It is easier now. We get 10,000 emails a week from people who want us to come pick their collections. Before the show, I ran ads in small towns. It worked, and I would go talk with the local chamber, with museums and with people who had collections.
What has been the highlight of the show for you thus far?
MW: Just making a difference. We now get letters from kids and families who love the show, who tell us it makes a difference in their lives, and thatís a powerful thing. We must be doing something right.
Mike Wolfe, In His Own Words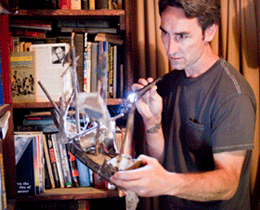 When I was five, I had my first big score when I found a pile of old bicycles in my neighborhood on trash day. And I was always bringing home old bottles and other random stuff. I never thought of it as junk: to me, it was beautiful.
Iíve always loved bikes. I raced competitively in my twenties, which led me to open a bicycle store and repair shop in Bettendorf, Iowa, my hometown. But I never stopped picking. Because of the store, people were always telling me about cool vintage bikes for sale, which I'd buy and flip for extra cash. When I added Italian scooters and motorcycles to the mix, picking became more than just a hobby. So I closed the shop, bought a van and hit the road. Antique Archeology [his business now] was born.
Mikeís best pick ever. A few years back, I was reading a motorcycle magazine. There was a classified ad that read, ďBUY-SELL-TRADE INDIAN MOTORCYLES.Ē I called the number. The older man who answered the phone said there were still a few rusty bikes out in the barn. I drove 800 miles, arriving in Pennsylvania the very next morning. When the old farmer opened the barn door, I knew I had hit the mother lode: 10 vintage Indian bikes and two more barns full of spare parts-a mega pick of a lifetime.
Editorís note: Frank was not available for this interview, but he may be contacted at frank@frankfritzfinds.com or www.frankfritzfinds.com. Mike may be contacted through www.antiquearchaelogy.com.