The Celebrity Collector
Allan Rich, Hollywood Character Actor,
Is Also a Veteran Collector
By Ken Hall
Allan Rich is one of those veteran character actors that if you heard his name, you might shrug and go, "Never heard of him." But if you saw his face from one of the dozens of films and TV shows he's been in over the years, you'd probably say, "Oh, yeah -- I know that guy!" Rich has been acting since 1943, when Milton Berle got him his first job, a small part on Broadway, at age 17.
Early in his career, he worked with screen greats like Edward G. Robinson, Claude Rains and Henry Fonda. More recently, his film credits include Steven Spielberg's "Amistad"; "Disclosure" (playing Demi Moore's attorney); Robert Redford's "Quiz Show" (as Robert Kintner, former president of NBC); playing a doctor in "Jack," with Robin Williams; and with Halle Berry in "A Rich Man's Wife."
Rich is also a veteran collector -- of mechanical banks, toys, stuffed animals, dolls and art. His art collection is a passion that was born of necessity. Rich was blacklisted during the McCarthy era of the 1950s and suddenly found himself out of work. He toiled for awhile as a stockbroker, then entered the world of modern and contemporary art. He opened his own gallery on Madison Avenue.
Over time, Rich became an expert in his field. He was more than just a dealer, and published graphics by the noted artists Salvador Dali, Joan Miro and Alexander Calder. He sold major paintings to important collectors, and became friendly with some of the famous artists of the day. One of these was Karel Appel, the Dutch abstract expressionist painter. The two made an intriguing swap:
"Karel knew that I was a collector of mechanical banks from the 19th century, and he loved them too," Rich said. "So we made a trade. He gave me a dozen or so original paintings, and I gave him a bunch of my banks. It was a good trade for both of us, because he loved the banks and I love his artwork. But I must admit, I miss those banks. I still have about 15. They're made of cast iron."
Rich first became enchanted with the mechanical banks in the late '60s, when he and his wife Elaine (who manages the careers of several prominent Hollywood starlets) were living in Massachusetts. "We'd go to these great little antique shops and find them there," he remembered. "Many are black collectibles, such as the 'Uncle Remus' and the so-called 'Jolly Nigger' banks."
Mechanical banks differ from "still" banks in that they perform some kind of action as they take your coin. And they're pure Americana. The oldest example is the Hall's Excelsior, a model designed in 1869 by John Hall of Watertown, Mass., for the Stevens Company. It was shaped like a small building. When the doorbell was pulled, a monkey labeled "Cashier" emerged to nab the coin.
The success of the Excelsior prompted a flood of cast-iron imitators. Today, more than 400 types of mechanical banks survive from the era. A few include the X-Ray bank (mirrors simulate an X-ray machine); a working merry-go-round; and the "fowler" bank (a hunter brings down a game bird with a gun that shoots caps). Some are quite valuable and command handsome prices at auction.
Rich's collection also includes some still banks (soldiers, policemen, dogs, piggies), about six in all. "The mechanical banks are just more interesting because they actually perform a little act for you," he said. All of what he has is from the 19th century. Porcelain and glass banks from that era can be quite rare, too, mainly because their owners usually had to smash them to get at the money.
Rich's other collectibles reflect his worldwide travels. "My wife's got dolls all over the house," he said. "We bought them in Mexico, the Caribbean, China, Japan and Russia" (one was purchased at the Hemitage Museum in St. Petersburg). Elaine also has dolls from the Franklin Mint, including Princess Diana and Jackie Onassis dolls. Many of their stuffed animals are from Alaska and Mexico.
Predictably, pieces of art occupy a prominent place at the Rich home in the Hollywood Hills. A work by Francis Bacon hangs in the entranceway; photos by the legendary Man Ray are displayed in a shadow box; there are Picasso ceramics (including the famous goat vase); he has four original paintings by Tom Wesselman; and signed and numbered silkscreens by Warhol and Lichtenstein.
Allan Rich was born Benjamin Norman Schultz 77 years ago in Astoria, Queens, N.Y. His family moved to the Bronx when he was 6, because of an incident involving him. "We were the only Jewish family in the neighborhood, and one day I was walking home from the store and this other kid said, 'Hey, Jew-Boy.' I became incensed, especially after dropping and breaking a bottle of milk."
The two boys wrestled around near a neighborhood dump site that was covered with lime. At one point, Allan pushed the other boy's face into the lime, not realizing the pain it would cause him. "The kid started screaming, 'I can't see! I can't see!' I ran home and told my parents what had happened. They were so afraid of an anti-Semitic retaliation that we all packed up and left -- that night."
They relocated to the Bronx, which had a greater Jewish population, and Allan (or "Benjy" as his friends called him) grew up in more friendly environs. His acting career began early on, when he was still a teen, and work was plentiful. Everything looked rosy, but the hateful atmosphere of post-war McCarthyism claimed Rich, as it did so many others. He wouldn't act for another 15 years.
Finally, in 1966, with his blacklisting lifted and the witch hunt of the so-called "Red Channels" over, Rich returned to acting, in a play written by Ron Ribman called "Journey of the Fifth Horse." More roles followed, then a big break: he was cast as a district attorney in the hit 1973 film "Serpico," with Al Pacino. His reputation as a versatile character actor was thereafter cemented.
Rich has appeared in over 100 TV shows. Just in the last two years, he was in episodes of "Judging Amy," "CSI" and "The Division." But his TV credits date back to the '60s, when he made appearances in "All in the Family," "Kojak," "Baretta," "Hawaii 5-O," "Barney Miller," "Harry O," "The Rockford Files," "Little House on the Prairie," "Alice," "Magnum P.I.," "Happy Days" and "CHiPs."
Rich teaches acting and is the originator of Act Now, an "organic" method of performing. He has taught such notables as Sharon Stone, Jamie Lee Curtis, Jack Scalia, Rene Russo, Alan Thicke and Joan Severance. He also authored a book on the method, which drew critical raves from contemporaries like Jack Lemmon, Walter Matthau and Alan Alda. Another book is now in the works.
Within the last six months, Rich completed two feature films -- "Burial Society" and "Intoxicating" -- and he was in a Sci-Fi Channel episode of "Scary Stories." Currently, he's up for a part in a movie about the life of the late singer Bobby Darin, called "Beyond the Sea." Kevin Spacey will play the lead. Other projects, involving TV and film, are under consideration.
Rich is the president and co-founder of We Care For Kids, a non-profit company that creates short, live-action films designed to prevent kids from smoking, driving under the influence of alcohol and exhibiting violent or racist behavior. The plight of the Native Americans is also highlighted. Six films have been made and shown worldwide. For information, click on http://www.wecareaboutkids.com/.
Fans of Allan Rich may e-mail the star at ARich12136@aol.com
2003
It isn't uncommon for Rich to play a judge or lawyer. Here he's Judge Juttson in the film "Armistad."
Rich purchased these two ceramics by Picasso in France in the early '70s, for about $100 each.
"Pull a tab," Rich said, "and the horses run, as in a race. It ends when a penny drops into the bank."
Many of Allan and Elaine's dolls come from Japan and Alaska.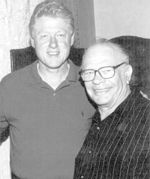 A mutual friend introduced Rich to Bill Clinton while Clinton was in office. They had lunch together.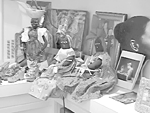 These African dolls from Kenya are all hand-made and beaded. Rich bought them in Santa Monica.