Painted Soda Bottle Labels
A Colorful Collectibles
By Penny Westbrook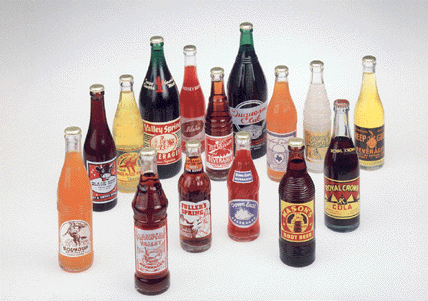 Most people look at a soda bottle and see nothing more than a beverage container. Members of the Painted Soda Bottle Collectors Association (PSBCA) see these soda bottles as far more. Although they are referred to as bottle collectors that is not necessarily true because they generally collect the piece for the Applied Colored Label (ACL), also known as "Painted Labels" making them more label collectors.
The Applied Color Label was developed around the mid 1930's to lower expense of the costly printed paper label being used in the soft drink industry. ACL is a process in which the label is applied using a paste-like material with printing screens. With this process several colors could be applied and placed directly on the bottle. Competition was fierce among the thousands of soda bottlers, each creating colorful designs to attract the consumer to their products. They created bottles that featured everything from cowboys, Indians, planes, landmarks, and famous people just to name a few. Many of these were
created not knowing that the illustration displayed would later be of historical significance.
Through the 1960's and into the 1970's, new methods of bottling were developed. Methods such as the development of soda cans caused the declining use of ACL bottles. These bottles were many times disposed of at landfills, where the soil contents destroyed the once beautiful labels. Many of these bottles are now difficult to locate, making them even more collectible.
Attractive graphics, limited numbers, subject matter and exquisite bottle designs all contribute to the value of ACL soda bottles. Many of these soda bottles represent an era-gone-by.
The Painted Soda Bottle Collectors Association (PSBCA) is the only national organization for painted label soda bottle collectors. Whether you are a novice or long-time collector of painted label soda bottles, a membership to PSBCA is essential to your collecting efforts. A membership puts you in touch with many others who share your interest in these fascinating bottles and keeps you updated on current happenings. PSBCA membership cost is $17.00 for one year. You will receive the official newsletter of PSBCA, named "Soda-Net" six times a year. Each newsletter offers informative articles on ACL in general as well as information on particular bottles and also includes a classified ad section.
Members and anyone interested in ACL may purchase a new book produced through PSBCA titled Collecting Applied Color Label Soda Bottles - Second Edition. The book is packed with historical information and stories, offers 800 full color photos, list 1000+ ACL bottles and values. The book cost is $30 plus $3 for shipping.
Write:
Rick Sweeney
PSBCA
9418 Hilmer Drive
La Mesa, CA 91942
or
email: ACLsRus@msn.com
---
Southeastern Antiquing Main Page Feature Stories Antique Shop & Mall Directory
Poor Jim's Almanac Classifieds Internet Yellow Pages Advertiser of the Month Subscription Information

© 1999, 2000 McElreath Printing & Publishing, Inc. - All rights reserved. No portion of the Southeastern Antiquing and Collecting Magazine may be reprinted or reproduced without express permission of the publisher.