Collecting Confederate Belt Buckles
By Amanda Young
Have you ever wondered about that dirt-covered belt buckle that your dog dug up in the backyard? That item you marked as junk and threw in the garage to collect dust could actually be a rare antique with an unbelievable story of war attached to it. In addition, it might be worth a lot, too.
The Confederate soldier's belt buckle is a remarkable investment for anyone who has a passion for antiques. A variety of antique buckles exist from the Civil War-era that are rich in history and worthy of including in any collection. Knowing what to look for and a healthy suspicion of fakes are essential when collecting these rare items.
Like any other antique, collectors should be familiar with various factors that determine the value of a Confederate buckle. This includes rarity, provenance, condition and the overall attractiveness of the buckle. All factors are important and should be considered.
According to experts, the most common buckles are the provisional egg-shaped with the letters "CS" found in western campaign sites in late 1863 or after. These sites include areas in Tennessee, Alabama, and Mississippi to name a few. A fine, nonexcavated example with fine patina and perfect shape will sell for about $3,000. This style in a slightly poorer condition with a broken or bent hook would most likely bring between $600 and $1,000. Unmarked rectangular frame buckles sell for less because they are more common.
Certain buckles are highly desirable and sought after by the collector. Several of the rarest include, but are not limited to, two-piece rectangular "CS" and Confederate Navy buckles made by Leech & Rigdon, waist belt plates with the words "Freedom of Death" or "North Carolina" and several waist belt plates once belonging to officers. These buckles are more scarce and consequently, more valuable. Also, Civil War buckles, Confederate and Union alike, that have been struck by bullets or have bullets embedded in them are rare and desirable. These buckles can sell for $1,000 and up.
In recent years, it has become much easier to reproduce Confederate buckles and much harder to determine a fake from the authentic. Counterfeiters often purchase cheap Civil War-era brass or copper from the shows and then melt down the metal and recast it into Confederate plates.
When tested, the results will show these buckles as being very old, even though they are newly cast. To achieve an aged look, counterfeiters will bury the buckle in the ground for a few years. Patina, the coating on the buckles, is important to aesthetics and value, and fake patina is getting harder to detect for a novice.
Steve Mullinax, the acknowledged authority in this field, is exceptional at authenticating and certifying Confederate belt buckles. Author of Confederate Belt Buckles and Plates, Mullinax knows how common it is to come across a fake buckle. In one instance, he appraised a prized buckle in a collection that existed since the 1960s. The Confederate Navy "Isaac and Company" buckle supposedly belonged to one of the officers of the CSS Alabama, and the owner even had paperwork with it. The buckle ended up having no value, but was mistakenly bought for thousands of dollars nearly 30 years ago.
Digging for buckles requires patience, knowledge, and even a bit of luck. About a month ago, Steve and others were digging for buckles in Dallas, Ga when one of his fellow diggers recovered a square buckle with rounded edges 15 feet away from where Steve was searching. The worth of the buckle ended up to be around $4,000. Sometimes, it's just a matter of where you're standing.
Mullinax's book, Confederate Belt Buckles & Plates, provides collectors with information about the endless variety of Confederate buckles. In it, one can see pictures of buckles, learn the history of each buckle and discover how rare each buckle really is. Confederate Belt Buckles & Plates is also one great reference to check the authenticity of a buckle. One can compare descriptions and dimensions of his or her buckle with those in the book to check for authenticity. Collectors still must be warned that this method does not guarantee authenticity, but it is a great way to start.
John Sexton is another expert who has studied Confederate relics for 30 years. He also knows how easy it has become to reproduce a Confederate buckle. John says, "It is most important to get a letter of authenticity from an expert like Steve Mullinax," because many dealers have a hard time telling the difference between a replica and a real buckle. John believes that authenticity is the most important thing when purchasing a Confederate belt buckle. Without obtaining a letter of guarantee (as with all Confederate articles), authenticity can and inevitably will be questioned. It is in the best interest of any collector who has any doubt about a buckle being considered for purchase to obtain a LOA from a noted authority.
Several sources are available when searching for collectible buckles. These include the Internet, Civil War shows, relic shops and antique shops. The most recent available sites come from the Internet, such as eBay, where sellers try to auction off a wide range of items to interested buyers. However again, Mullinax urges that buyers strongly question the authenticity before buying because anyone can take a picture of a buckle and try to sell it over the Internet. Without seeing the buckle or a letter of authenticity in person, it becomes harder to trust an unknown seller.
Curious collectors who want to learn more about Civil War relics should keep an eye out for local Civil War shows, such as the upcoming 26th Annual Civil War Show and Sale in Atlanta, hosted by the North Georgia Relic Hunters. This event will take place August 7 and 8 at the Cobb County Civic Center and is a great source of information for collectors. More information on this event and others like it can be found by contacting your local Relic Hunters Association or by searching the web.
For those who aren't able to make it to a show, they can contact John Sexton at smrelics@aol.com with any Civil War-related questions. If you wish to acquire a letter of authenticity for your buckle, you can contact Steve Mullinax at steve_mullinax@yahoo.com. He charges $100 per letter, but his expertise is worth the investment. Mullinax also buys and sells authentic Civil War buckles from serious collectors.
It is important to research any antique item before investing in it, especially Confederate belt buckles. Finding the real thing can be exciting, so get that box of buckles you have always been curious about and take it to an expert to get them appraised. And the next time your dog brings something in the house that looks like junk, don't toss it, have it appraised.
---
Credits:
Group buckle photos courtesy: Jack Melton, jack@jwmelton.com
All other photos courtesy: Steve Mullinax, Confederate Belt Buckles & Plates which can be purchased at www.relicman.com.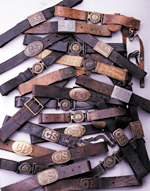 This private collection of rare buckles includes the original leather straps.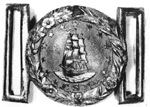 Waist belt plate of a Confedertae Navy officer, ca. 1861-1865.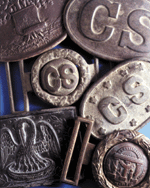 In recent years, it has become much easier to reproduce Confederate buckles and much harder to determine a fake from the authentic.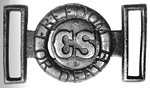 Waist Belt plate, CS two-piece,
ca. 1861-1865.
Round corner waist belt plate, CSA.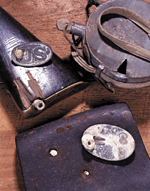 The value of Civil War items increases if they have been struck by bullets.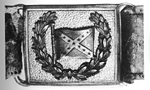 A general officer's waist belt plate found in Oklahoma, ca. 1861-1865.