Can you name this famous antique?
Everyone knows this famous antique, American Gothic, by Grant Wood,
but do you know who were his two models in the painting?
Call Mike at 770-974-6495 or 888-388-7827
if you know the answer and win 15 seconds of fame
for yourself in the next issue.
You can also e-mail your answer, please include
Answer to Famous Antique in the comments field.
Check back in August for the answer.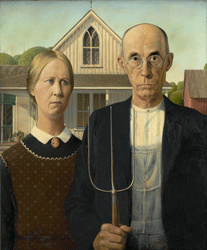 Photo of "American Gothic."