Q & A with the Antique Detective
Q. I have two chairs marked "Tobey" and wonder if they are as old as they look. A.M. -Kansas City, KS.
A. Your chairs were made in the Art Nouveau style by the Tobey Furniture Company of Chicago around 1901. The company was known for its quality hand made furniture. Your chairs could sell in a show specializing in 20th century furniture for over $500 each.
Q. This crystal diamond cut knife rest is 3-3/4" in length and has been in my family near Ottawa, Canada since the 1920s. What is the age and could it be from Scotland? B.M.B. -Cape Coral, FL
A. Your cut glass knife rest appears to be of the type made around 1876 when so called "brilliant cut glass" was introduced at the Philadelphia Centennial. If it had a signature, it would be more valuable. I would be inclined to think it was made in America. It could sell in a shop for $75.
Q. Should I be putting this pottery wash bowl set away when the grandchildren visit? It is marked "Delft". C.M. - Pittsburgh, PA
A. Your wash bowl set was made by one of the Staffordshire potteries working in England in the late 19th century. Similar sets sell for $300 or more in shops. "Delft" refers to the pattern with the Dutch windmills.
Q. Can you tell me anything about these three ceramic watering pitchers? The pink one in the middle was featured on the cover of Look magazine. It was valued at $35 at that time and given to my mother in 1950. I found the other two in antique stores for $25 each in antique shops. K.M. - Kansas City, MO
A. You didn't mention them having any makers marks so I have to assume there aren't any. They are charming and appear to have been made in the late 19th century in the rococo style, before 1890 when country of origin had to be imprinted. You got a bargain. A current price could be $75 or more each since they are an unusual form.
Q. Enclosed is a photo of an antique table my mother left me. It appears to be hand carved and has a marble top. I think it is Victorian around 1890. What is the value? J.E.N.-Wadsworth, ILL
A. You are right about the date of your table. It could sell in a shop for $400 or more.
Q. What can you tell me about this chest that is marked 1786 and has a painted surface and design and heavy iron hardware? B.L. - Wilmette, ILL
A. I purchased a similar chest 15 years ago. Research proved the date was recently painted as were the designs. The chest dates probably mid-19th century and probably originated in one of the Baltic or Scandinavian countries. An estimated current retail price could be from $400 up.
Q. We have had these presidential candidate pins (Bryan) in our family for years. We would like to know the value. J.T. - Bridgeton, NJ
A. I checked with Ted Hakes Auction that specializes in political items. The entire group of pins could sell at one of their auctions for $250.
Q. What do you think this desk and stool are worth? I believe they go together. The desk has a conch shell inlay. The top of the desk says "Macy 711. Finish 13." I believe the desk dates from the 1890s to early 1900s. J.B. - Natrona Hts., PA.
A. Your drop front desk and stool don't go together. The piano stool dates from the late 19th century. Your drop front desk was probably made in the 1920s. The inlay could have been added later to up the value. The desk could sell in a shop for $900 to $1,200. The stool for $75 or more.
Q. I have 14 hunting prints by Lynn Bogue Hunt of ruffled grouse, spoonbill and others. Each with Du Pont copyright 1917. You wrote about them as advertising trade signs. What is their value? D.D. -West Grove, PA
A. In good condition, as I mentioned, they could sell for over $1,000. Send good photos and measurements to James Julia Auctions, 203 Skowhegan Road, Fairfield, ME 04937.
Delft wash bowl set, $300.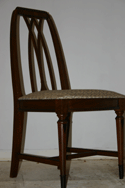 Ca. 1901 Tobey Furniture Co. chairs, $500.
Mid-19th c. chest, $400.
Cut glass knife rest, $75.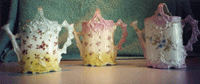 Unmarked ceramic watering pitchers, $75 each.
Bryan presidential pins, $250.